The Bmw K-series has always been a bit of a mistery to me. That strange engine position, the shape of the frame, the high-mounted front end.. It really needed a deep revisitation to be visually accettable.
La Bmw serie K è sempre stata un po' un mistero per me. La strana disposizione del motore, la forma del telaio, l'anteriore alto…necessita di una bella e profonda rivisitazione per risultare visivamente accettabile ai miei occhi.
So when a new customer entered the shop with a partially-crashed one we immediately accepted the challenge. Our first take was an 80s endurance approach but although it looked very cool the owner preferred a more road-oriented trim.
So we decided it was a btter choice to improve it in a more practical way, giving it some contemporary flavour.
The naked look works great if you enhance some engine parts, in particular the intake manifold and he exhaust. This fits even better with the K because how the engine is placed on the bike.
Così quando un nuovo cliente è entrato in officina con un esemplare un po' ammaccato abbiamo immediatamente accettato la sfida. La mostra prima idea è stata quella di puntare su un approccio endurance anni 80 ma pur risultando fighissima il proprietario era orientato più su un look stradale.
Così abbiamo pensato che fosse meglio cercare di migliorarla in una maniera più pratica, dandole un sapore più contemporaneo. 
Il look "nudo" funziona alla grande se si è in grado di potenziare e sostituire alcune parti, in particolar modo aspirazione e scarico. Questa regola vale ancora di più per il K per via della particolare disposizione del motore.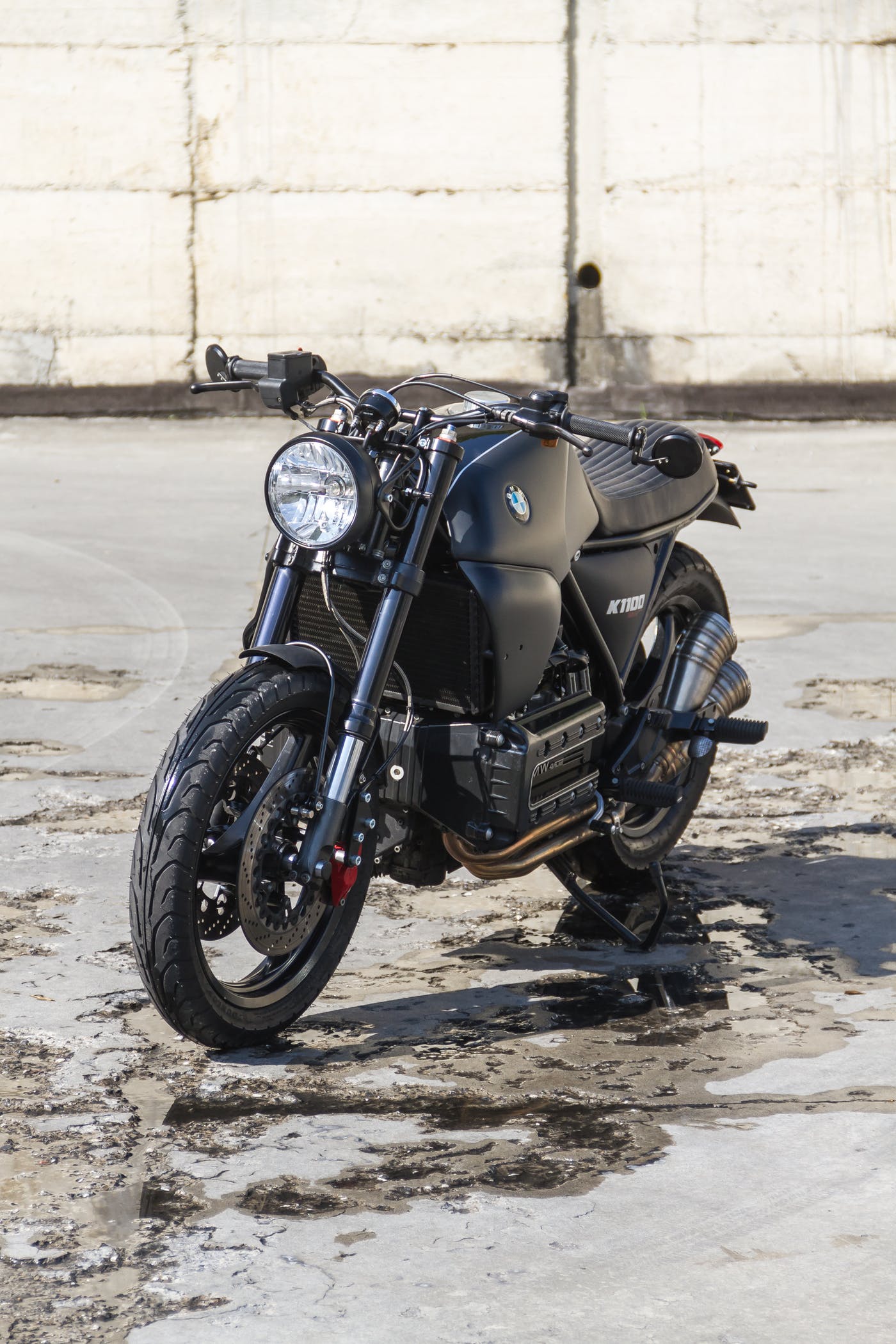 The longitudinal L-displacement lays down parallel to the ground so with this unique layout intake end exhaust are on the same side of the bike (the left one).
This means that this view is the richer and the most interesting: to give it some more carachter we took away the plastic airbox in favour of 4 cone-mesh air filters, so the 4 banger can now breath more freely. And to spread its voice a custom exhaust with two motogp-style short exits.
Il 4 cilindri in linea, contrariamente alla norma è disposto longitudinalmente e parallelo al terreno e questa soluzione comporta che aspirazione e scarico siano in effetti sullo stesso lato (il sinistro) della moto.
Questo significa che questa è a tutti gli effetti la parte più "ricca" e interessante del mezzo: per conferirle ulteriore carattere abbiamo rimosso l'airbox in plastica e lo abbiamo rimpiazzato con 4 filtri a cono cosicchè il 4 in linea possa respirare meglio. E, per diffondere la voce, ecco uno scarico aftermarket con doppia uscita corta e curva stile MotoGp.
The livery is a mix of dark matte grey and glossy black that gives a new, more modern appeal.
The fuel cap is an alloy volume potentiometer-like element which is a carry over from the owner's previous experience.
The saddle, as usual, is developed in house by Cristian.
The front end look way better than the stock one: as you can see it's considerably lower because we adopted the upside-down forks from a Aprilia Sl 1000 Falco with a custom fabricated top plate. The minimal mudguard now has custom-made steel supports.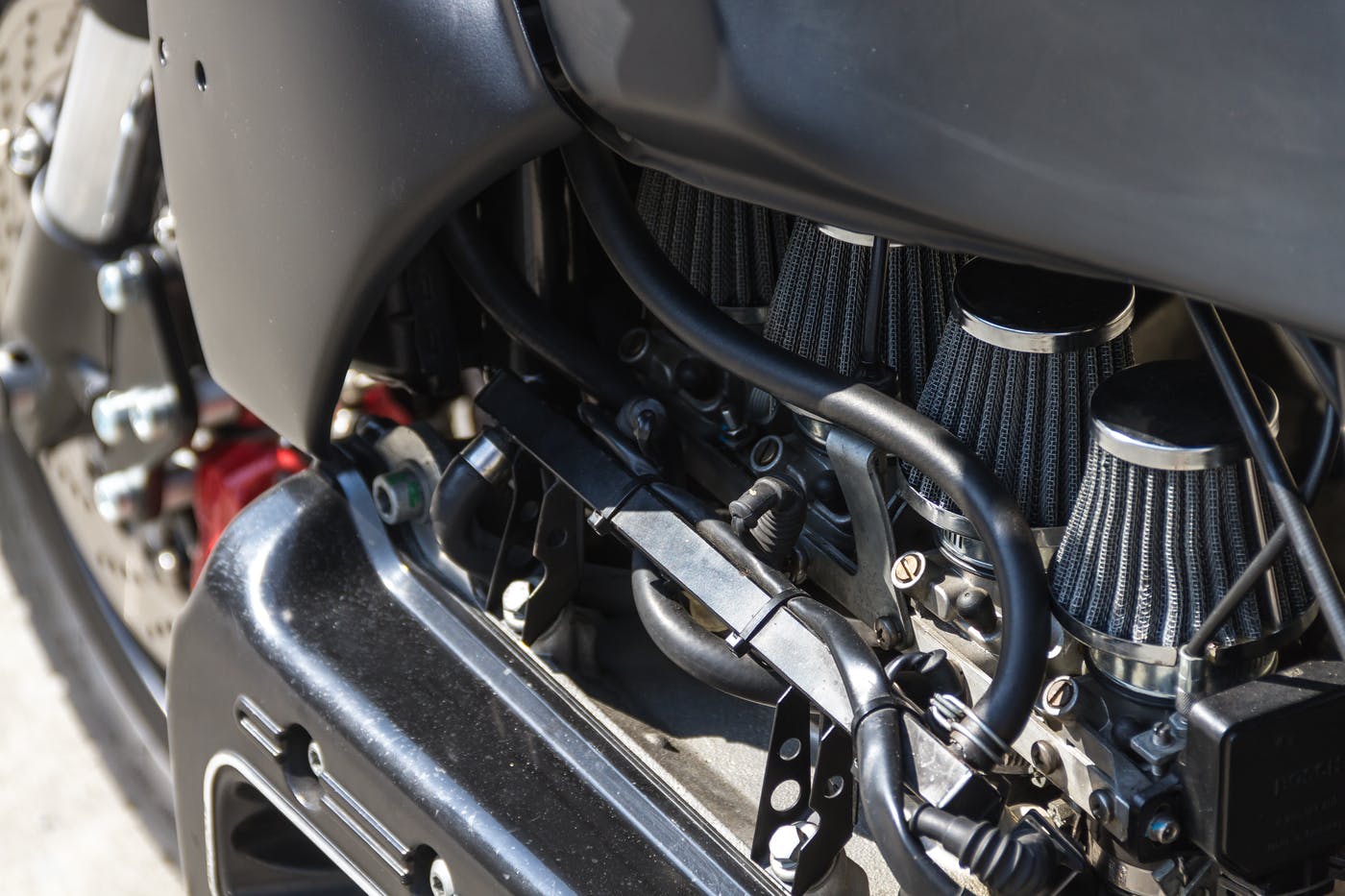 La livrea è un mix di nero lucido e grigio scuro opaco che sicuramente contribuisce a svecchiare l'insieme.
Il tappo del serbatoio è un elemento in alluminio che ricorda un po' un potenziometro e viene direttamente dal materiale fornito dal proprietario.
La sella, come sempre, è studiata e costruita su misura da Cristian. L'avantreno è protagonista di un considerevole miglioramento potendo contare su nuove forcelle a steli rovesciati provenienti direttamente da un Aprilia Sl1000 Falco e su piastre artigianali. Il piccolo parafango artigianale è montato su supporti in metallo fatti a mano.
Hand-crafted steel plates link the brembo red calipers to the new forks. This red accents are one of the few color details in the whole project.
The cockpit area has been totally cleaned and now only a small digital gauge by Acewell finds its place over the headlight. Everything is placed in a new custom-fabricated steel tubes mini-frame.
The back has totally been re-designed with a custom tube frame that perfectly match the stock structure.
Piastre in acciaio fatte a mano collegano le pinze freno Brembo rosse con le nuove forcelle. Questi dettagli rossi fanno parte del piccolo bagaglio di colori presenti sulla moto.
La zona del cruscotto è stata totalmente ripulita e ora solo un piccolo strumento Acewell trova posto sopra il faro. Tutto è disposto su di un nuovo telaio tubolare in acciaio.
Anche il posteriore è stato completamente rivisto con un telaio in tubi che si adatta perfettamente alla struttura di serie.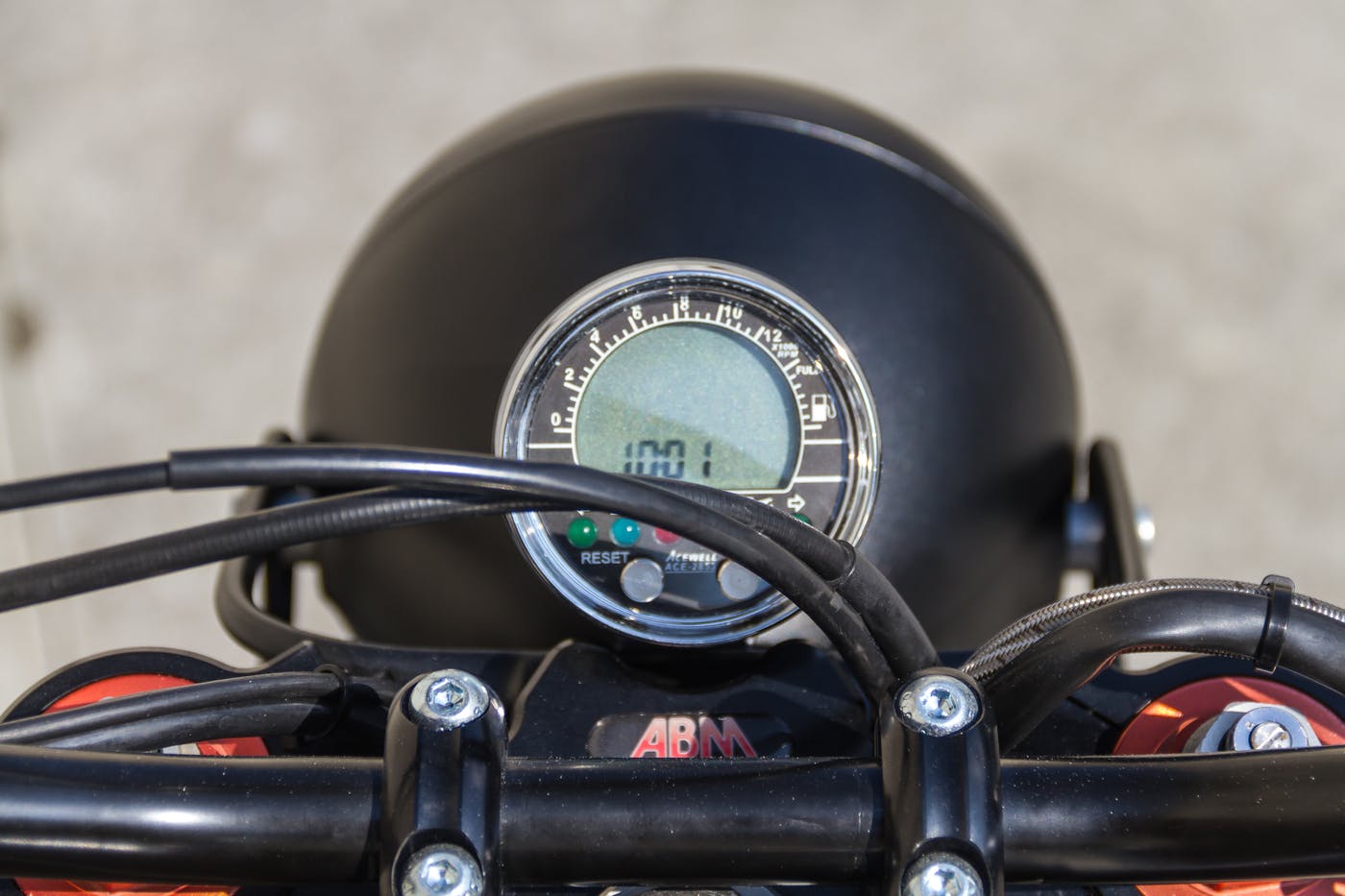 Radiator covers and side sub-saddle panels have been designed and produced in house to work perfectly with the stock tank.
The overall look is now cleaner and more aggressive, keeping all the good caracteristics of the original bike. The handling is way better thanks to the decreased weight and new front end. The sound is now raspy and deep, transforming the once-calm cruiser in a sleeper- everyday dragster.
Surprisingly the K proved to be a very good base for a custom bike and i'm looking forward to work on another one to create something more extreme and fast!
Le protezioni del radiatore e i pannelli sotto la sella sono stati ri-progettati e costruiti da noi per adattarsi al meglio al serbatoio originale.
L'immagine generale è ora molto più pulita e aggressiva, mantenendo tutte le buone caratteristiche tecniche del modello originale.
La tenuta e la guida risultano considerevolmente migliorate grazie alla riduzione di peso e alla nuova ciclistica anteriore. Il suono è più rauco e profondo, cosicchè si è passati da una cruiser macina-chilometri a una specie di dragster per tutti i giorni.
Sorprendentemente il K si è rivelato una buona base per customizzazioni e spero di poter presto lavorare su qualche altro esemplare per tirar fuori qualcosa di più estremo e veloce!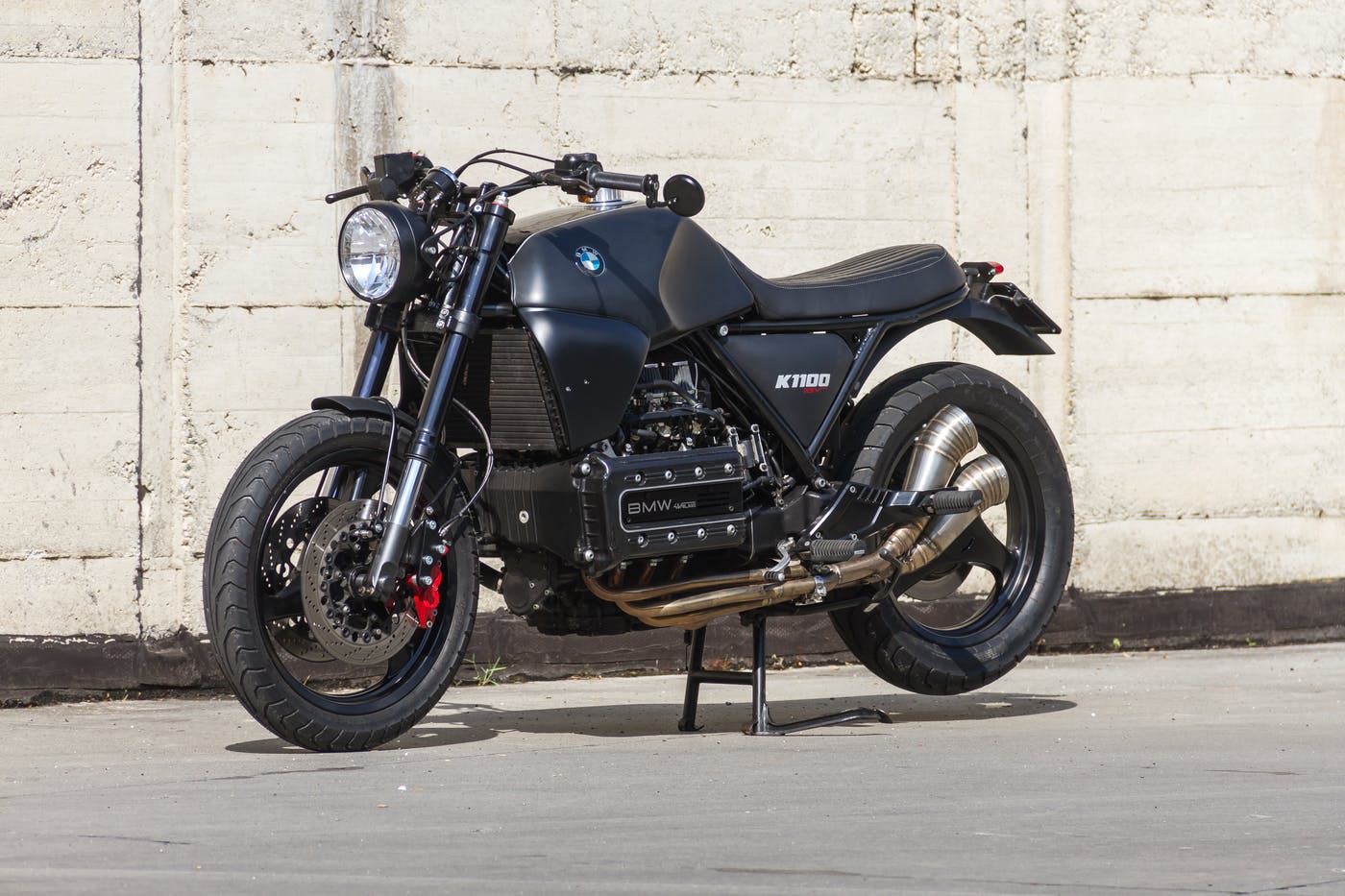 Ti piacciono le BMW? Scopri le nostre altre special su questa base!