The DuKaTi Streetfighter GT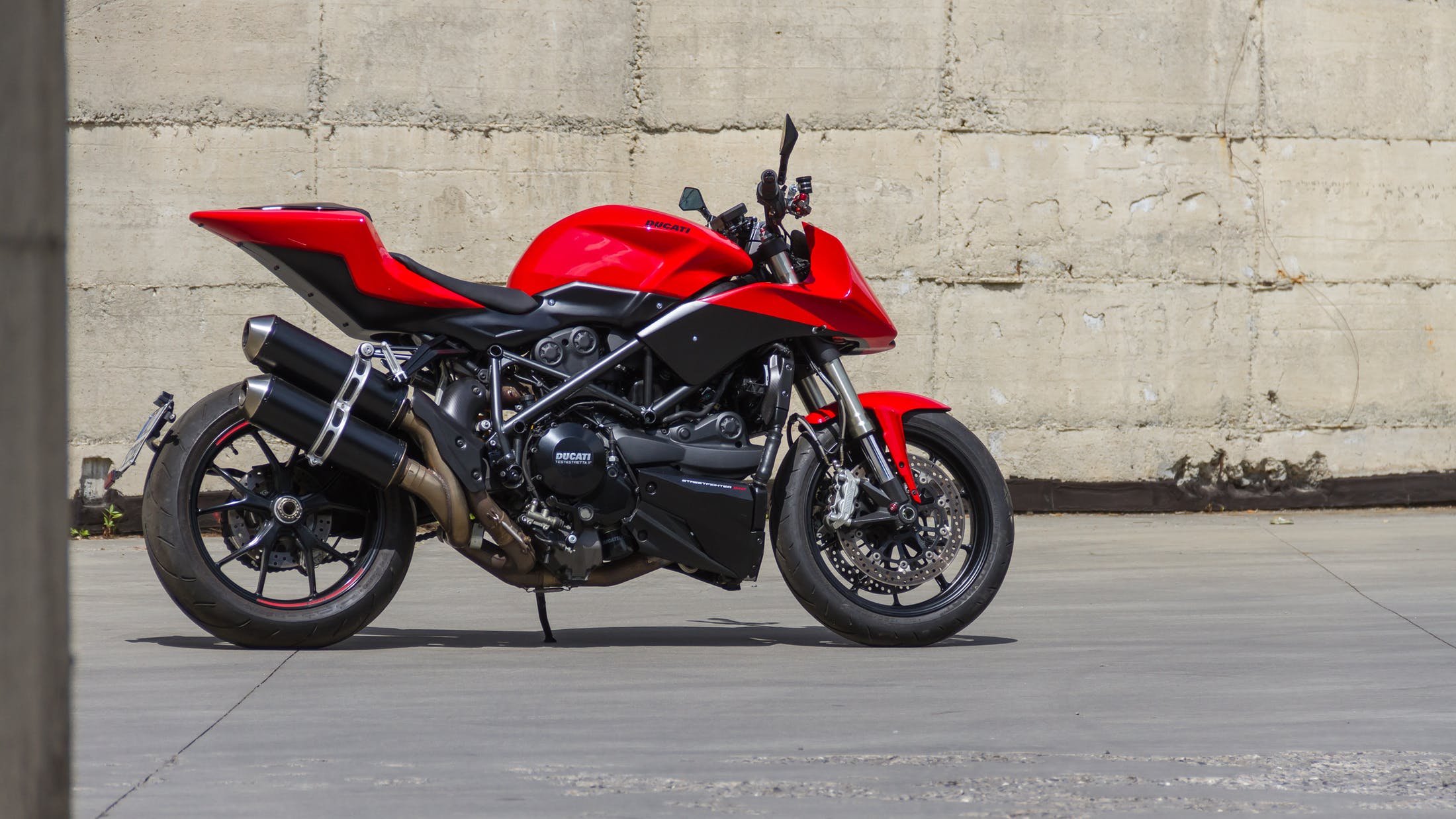 The Ducati Streetfighter has been one of the most powerful and sporty Naked on the market. It featured the same structure and engine from the 1098/848 sport bikes but in a more road-oriented approach.
La Ducati Streetfighter è stata una delle sportive nude più potenti sul mercato. Condivideva la struttura di base e il motore con la 1098 e 848 ma con un approccio più stradale e quotidiano.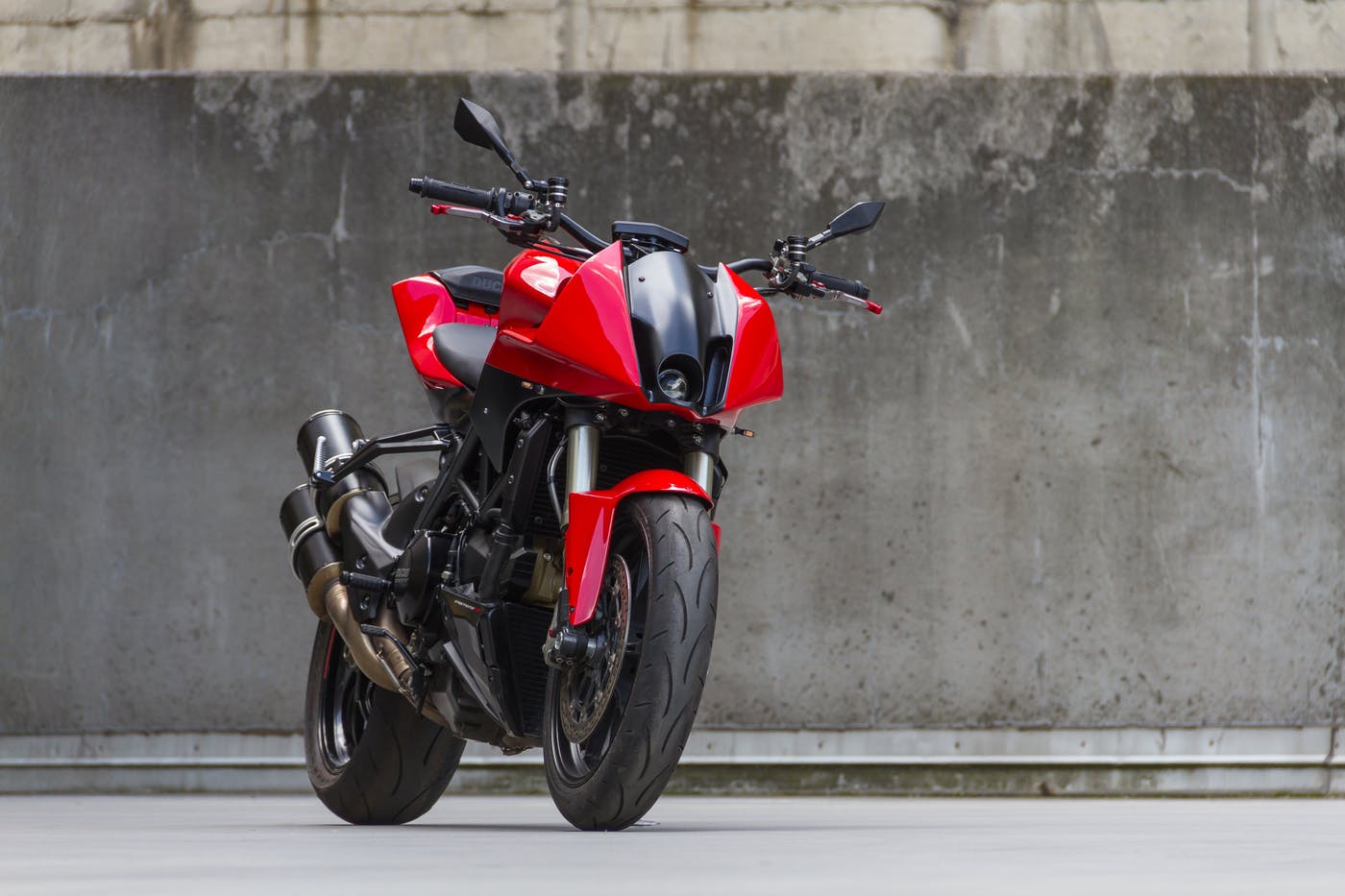 The handlebar is higher and larger, the front and side fairings have been removed and only a small headlight dresses the front end. I always tought it wasn't a fully balanced design because the overall shape works really well on the sport bike but not so much on the naked.
The owner of this very bike was probably on or same line so, after he crashed his bike, he decided to restore it and make it more fit to its taste.
Il manubrio è  più grande, le carenature anteriori e laterali sono state rimosse e solo un piccolo faro  veste la parte anteriore. Ho sempre pensato che non fosse un design completamente bilanciato perché la forma complessiva funziona molto bene sulla moto sportiva, ma non tanto sulla nuda.
Il proprietario di questa moto era probabilmente sulla stessa linea, quindi, dopo una caduta, ha deciso di ripristinarla e renderla più adatta al suo gusto.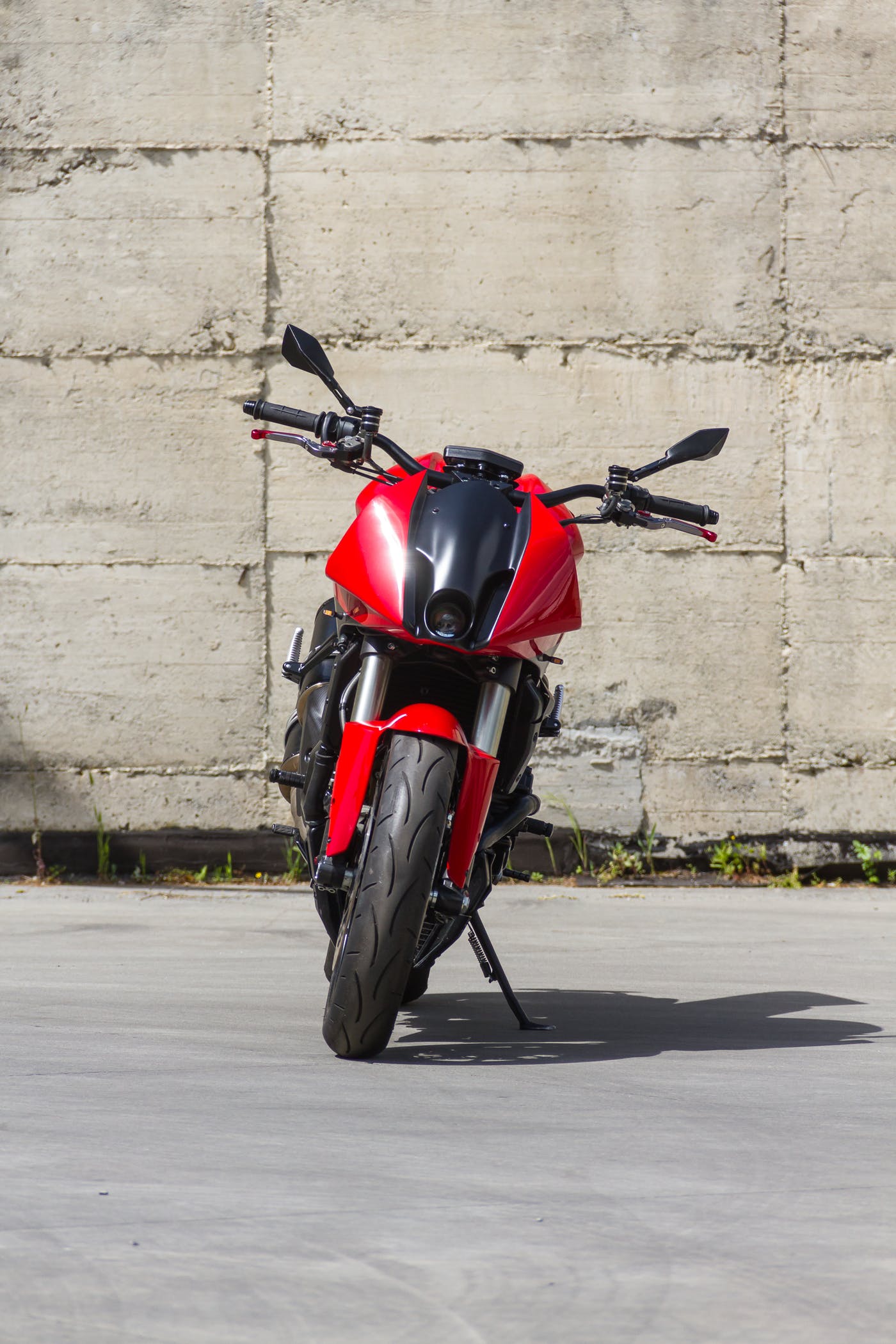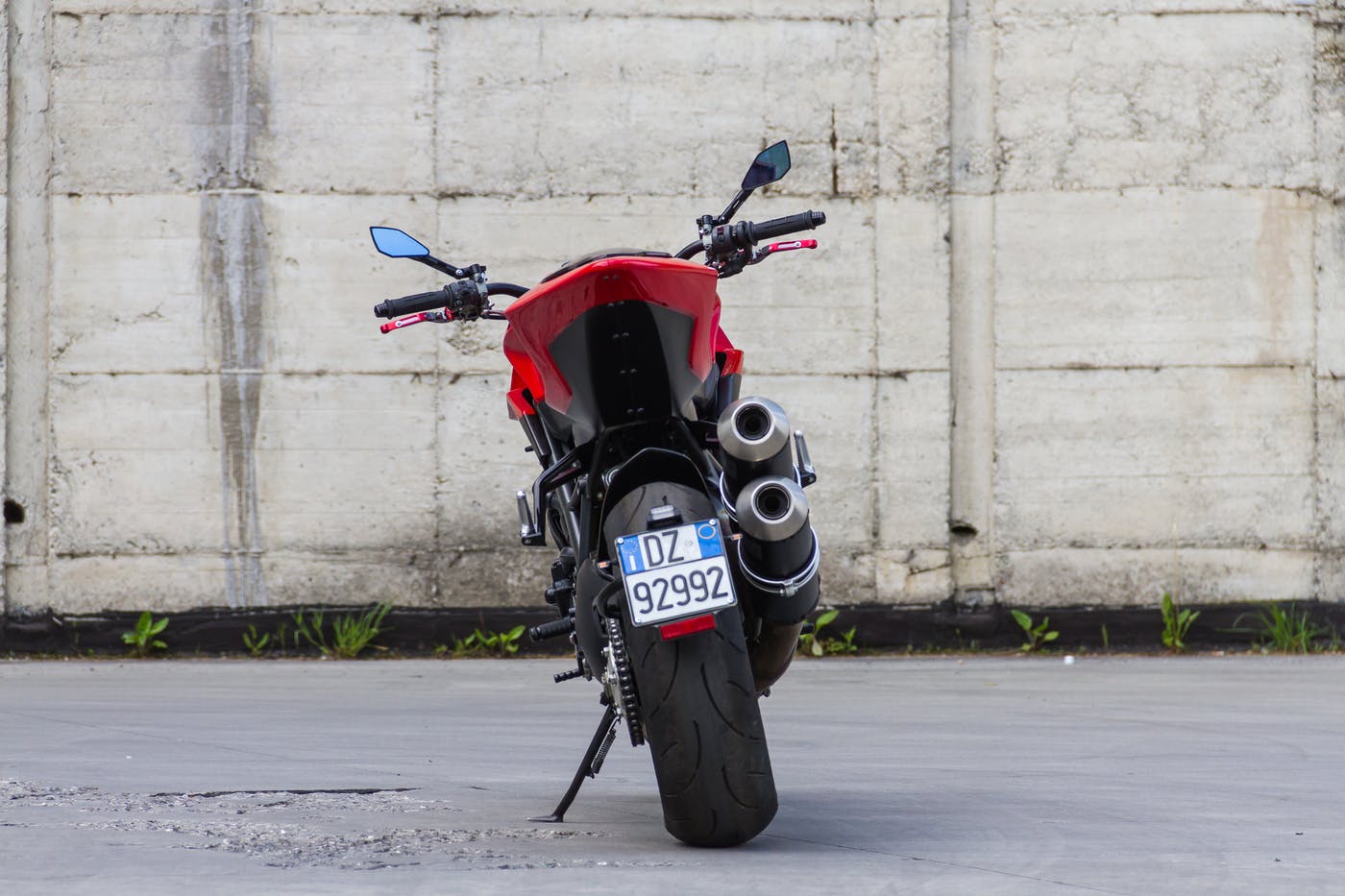 So together we strated thinking to some sort of a "GT" version with a small front fairing and a new rear end, all matched to the stock fuel tank and to the overall design.
Così insieme abbiamo cercato di pensare a una sorta di versione "GT" con una piccola carenatura anteriore e una nuova parte posteriore, il tutto abbinato al serbatoio del carburante e al design generale.
We decided not to start fully from scratch but we found a couple of parts from a Ktm Rc8 sitting in one of our shelves and we used them as base to develop the new body panels.
Surprisingly we found many connection points beetween the two models and decided to exploit them in building something unique. We kept only a fraction of the front and created a fully new shape to link it to the Ducati frame.
Abbiamo deciso di non iniziare completamente da zero, ma abbiamo trovato un paio di parti di una Ktm Rc8 in uno dei nostri scaffali e le abbiamo utilizzate come base per sviluppare i nuovi pannelli della carrozzeria.
Sorprendentemente abbiamo trovato molti punti di connessione tra i due modelli e abbiamo deciso di sfruttarli nella costruzione di qualcosa di unico. Abbiamo mantenuto solo una frazione del frontale e abbiamo creato una forma completamente nuova per collegarlo al telaio Ducati.
The same goes for the back end: the super-high tail from Ktm is a really nice element to work on: we created a number of panels to match it with the Ducati subframe (yes, we didn't touch the structure so we can still go back to the stock configuration). We obtained a slightly bigger space by modifying the lower line of the saddle and this feature gave us the opportunity to embody a number of devices, cables and stuff inside it.
Lo stesso vale per il posteriore: la coda alta della Ktm è un elemento molto bello su cui lavorare: abbiamo creato un numero di pannelli per abbinarlo al telaietto Ducati  (sì, non abbiamo toccato la struttura in modo che possiamo ancora tornare alla configurazione di serie). Siamo riusciti ad ottenere uno spazio leggermente più grande modificando la linea inferiore della sella e questa funzionalità ci ha dato la possibilità di incorporare un numero di dispositivi, cavi e roba varia al suo interno.
The owner really desired to keep the stock saddle in the new design so there was a great effort in fitting it in a good way over the new parts. I think this was one of the key points of this project. (In this images a couple of details are missing: with everything at the right places those holes will be not visible).
Il proprietario desiderava davvero mantenere la sella di serie nel nuovo design e questo ha richiesto un grande sforzo per adattarlo bene alle nuove parti. Penso che questo sia stato uno dei punti chiave di questo progetto. (In queste immagini mancano alcuni dettagli: con tutto al posto giusto quei fori non saranno visibili).
On the engine side we left everything untouched: the bike has just the right amount of performance and we think it doesn't need further improvement.
We'd like replacing some "cosmetic" parts with aftermarket components (like the valve timing cover) but there was no budget so we only covered some carters and protection with a carbon-look effect.
Some minor upgrades took places on the controls and levers: new mirrors and brake fluid reservoirs were added. The large handlebar could not be in everyone taste (i'd sure prefer a more racing-oriented solution taht surely would give much more caracter ro this model) but the target was to keep it the "streetfighter" of its name.
Lato motore abbiamo lasciato tutto intatto: la moto ha la giusta quantità di prestazioni e pensiamo che non abbia bisogno di ulteriori miglioramenti.
Vorremmo sostituire alcune parti "cosmetiche" con componenti aftermarket (come il coperchio della distribuzione ) ma non c'era budget, quindi abbiamo coperto solo alcune protezioni con un effetto carbonio.
Alcuni piccoli miglioramenti si sono verificati sui comandi e sulle leve: sono stati aggiunti nuovi specchi e serbatoi per liquido dei freni. Il grande manubrio può non essere per tutti i gusti (preferirei sicuramente una soluzione più orientata alle corse che sicuramente darebbe molto più carattere a questo modello) ma l'obiettivo era di mantenere lo "streetfighter" del suo nome.
The riding position is a bit Buell-like because the bike has a really short wheelbase, you sit on a pretty high saddle that is also leaned forward and the handlebar is close to you.
This setup favours agility and practicality over high-speed handling but in the end i think it works well and gives it the capability of being a special for daily use.
La posizione di guida è un stile Buell perché la moto ha un passo davvero corto, ci si siede su una sella piuttosto alta che è anche inclinata in avanti e il manubrio è vicino a te.
Questa configurazione favorisce l'agilità e la praticità rispetto alla gestione ad alta velocità, ma alla fine penso che funzioni bene e le dia la possibilità di essere una special per l'uso quotidiano.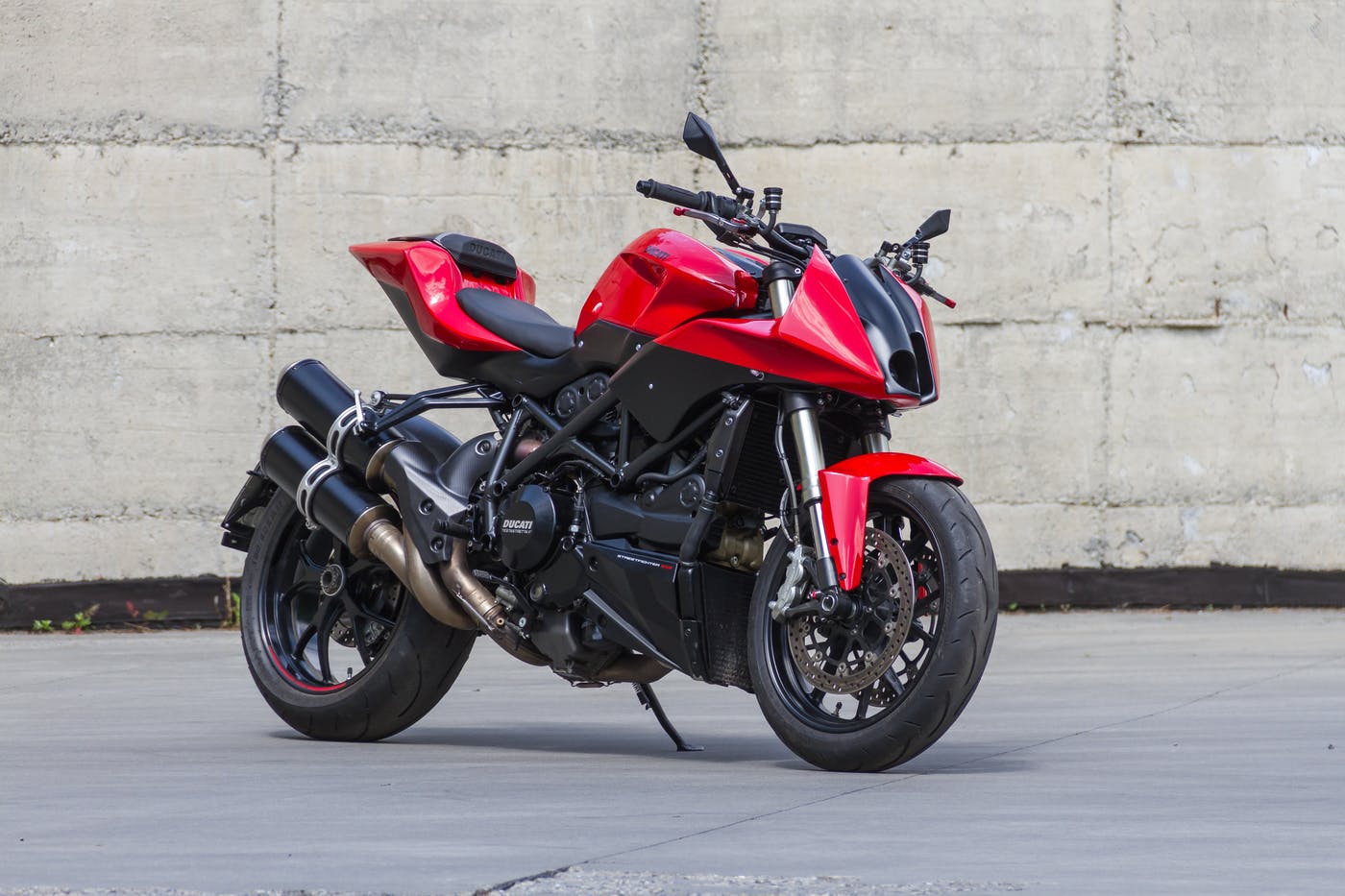 The big stock double exhaust system has been kept in its place and the owner only wanted the mufflers to be painted black (i can't stop thinking how cool it could have been with some carbon or titanium racing-inspired part but unfortunately they were not on the list..)
Il grosso sistema di scarico doppio è stato mantenuto e il proprietario voleva solo che i silenziatori fossero verniciati in nero (non posso smettere di pensare a quanto sarebbe stato bello con una parte ispirata alle corse in carbonio o titanio, ma sfortunatamente non era sulla lista..)
The paintjob keeps the unmistakeable Ducati red with the addiction of few matt black parts (the under side of the tail, the center part of the front fairing that embodies the unique small but powerful headlight).
It was great to work on a less-used bike for a project that is a bit more unusual but that opened our mind on a possible new way of thinking around this tipe of vehicle. Could this become a life extender for other models? we'll see!
La verniciatura mantiene l'inconfondibile rosso Ducati con l'eccezione di poche parti nere opache (il lato inferiore della coda, la parte centrale della carenatura anteriore che racchiude l'esclusivo faro piccolo ma potente).
È stato fantastico lavorare su una moto meno utilizzata per un progetto un po 'più insolito, ma che ci ha aperto la mente su un possibile nuovo modo di pensare attorno a questo tipo di veicolo. Questo potrebbe diventare un elisir di lunga vita per altri modelli? Vedremo!