Goddhammer
Harley-Davidson Sportster 1200 Forty-Eight
This project started a long time ago. In 2016 one of our customer brought his new Harley Davidson Sportster Forty-Eight with an idea in his mind: to modify it in a pretty unique way.
He wanted to put a super-slim fairing around it with a saltlake-like inspiration, something that could have raced 50 or 60 years ago. Slim 19″ tyres, a short tail with a one seat saddle and a big big big exhaust.
Questo progetto è iniziato molto tempo fa. Nel 2016 un nostro cliente ci ha portato questa nuova Harley-Davidson Sportster Forty-Eight con un'idea in mente: modificarla in una maniera unica.
Voleva una carenatura molto aderente attorno ad essa e una ispirazione corsaiola/da lago salato, qualcosa che avrebbe potuto correre 50 o 60 anni fa. Sottili ruote da 19, coda corta e monoposto e un sistema di scarico molto "importante".
Not the kind of exhaust you can find on the market and not the kind of body you can buy and apply after removing the stock parts. And – and this is the hardest part – he needed to keep the frame almost stock and not to move the oil tank.
It was a bit of a brain teaser and a lot of drawings were necessary to reach the starting point of the building project. We had to keep all the structure as close as possible to the wheels and to the frame and engine but keeping a good clerance for the suspensions travel and for an effective cooling.
Non il tipo di scarico che si può trovare sul mercato e non il tipo di carrozzeria che si può mettere e togliere dopo aver rimosso un paio di parti stock. E, fattore determinante, il tutto mantenendo il telaio praticamente originale e senza rimuovere il serbatoio dell'olio.
Un bel rompicapo da risolvere e infatti si sono resi necessari un gran numero di disegni e di studi per arrivare al punto di partenza per la costruzione. Dovevamo mantenere tutte le strutture più vicino possibile alle ruote, al telaio e al motore ma assicurando gli spazi corretti per il lavoro delle sospensioni e il raffreddamento.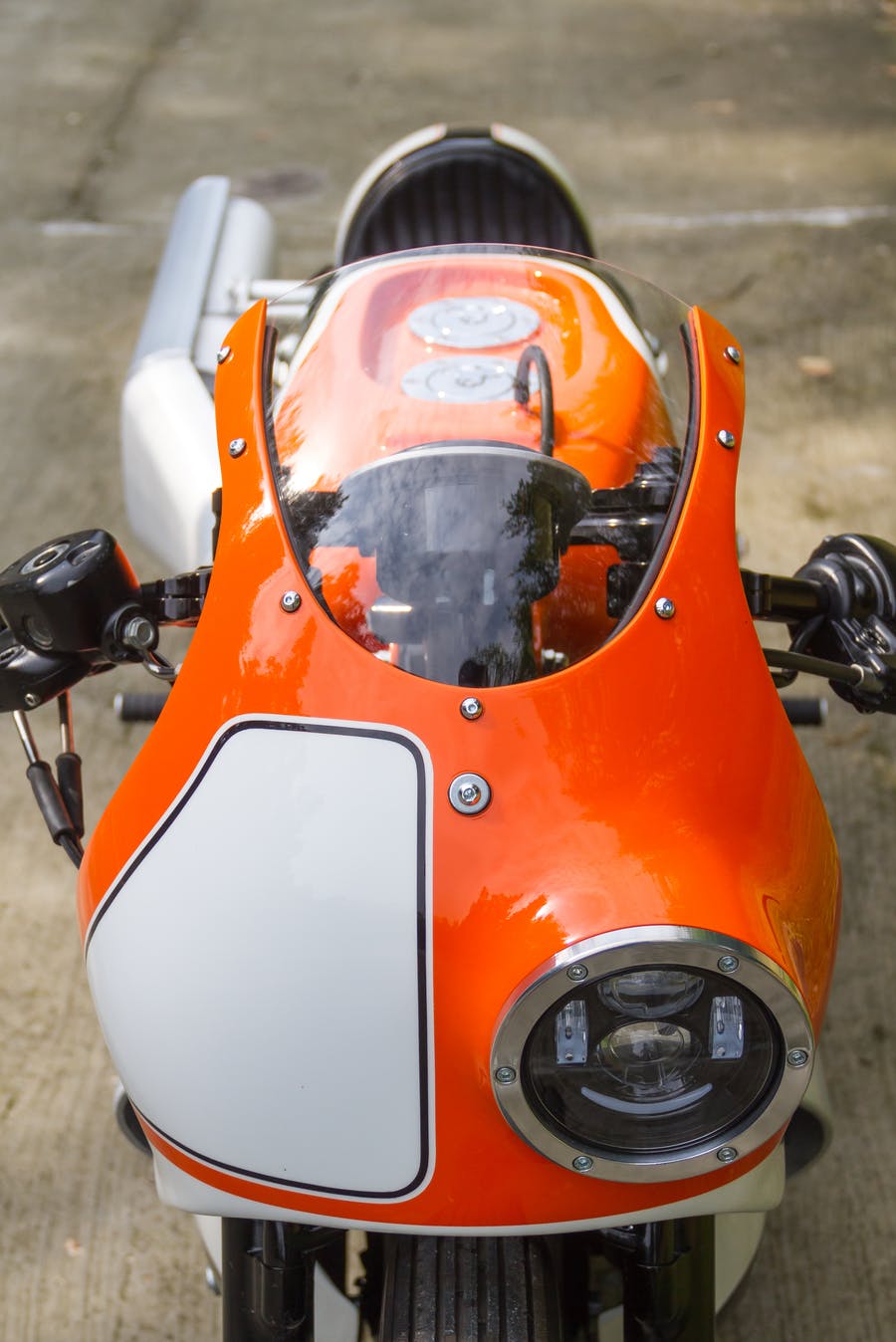 We started taking everything apart and once we arrived to the bare frame+engine combo we started to produce some cardboard silhouettes. It really has been a hard task because we had to accomodate por customer desires but in a way that could match our vision.
We decided to use different materials: resin and plastic for the fairing, alluminium for the fuel tank and tail section, steel for the exhaust and headers. I can assure you that it's a real gamble to make all this different things work together in a common language, considering every material has its own features.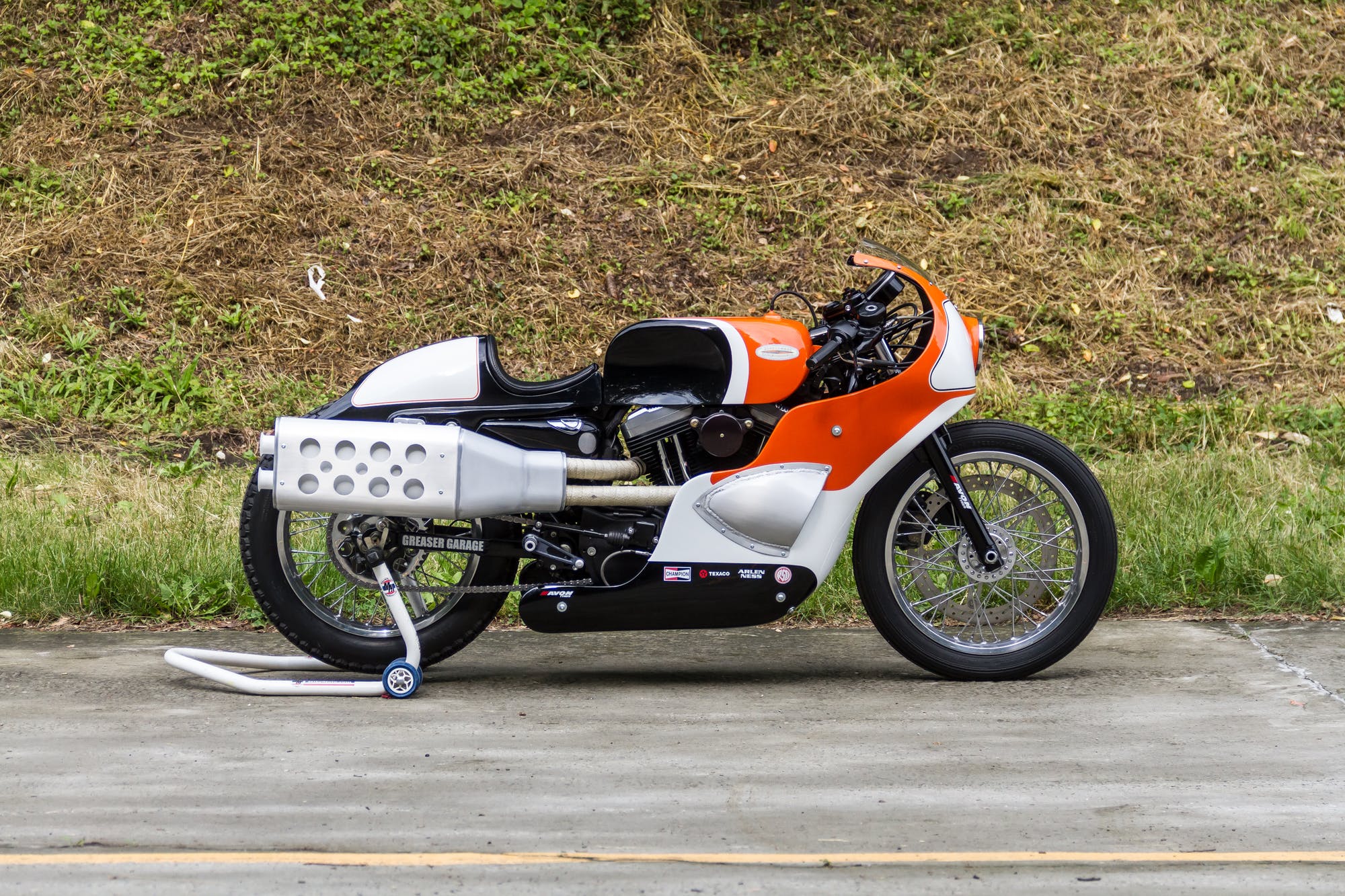 Abbiamo quindi iniziato a rimuovere tutte le parti di carrozzeria e "accessorie" per arrivare alla base telaio+motore: a questo punto è iniziato lo studio mediante sagome di cartone. È stata dura perchè dovevamo rispettare le richieste del cliente ma in un modo che avesse senso rispetto alla nostra visione e alle nostre esigenze.
Fin da subito abbiamo optato per utilizzare differenti materiali: resina e plastica per la carenatura, alluminio per serbatoio e sezione di coda e acciaio per scarico e collettori. Vi posso assicurare che si tratta di un azzardo poichè è arduo riuscire a trovare e rispettare un linguaggio omogeneo considerando le peculiarità differenti di ogni singolo materiale.
Giorgo made the most out his skills with metals and was able to build sensational pieces starting just from scratch. The fuel tank has 2 caps and is inspired directly from the world of endurance racing. The tail is super fluid and perfectly embraces the skinny rear tyre.
There's no extra space for the wheel, just the minimum amount to let it roll and bounce on the road surface.
The fairing is a work of art by Mattia a.k.a. Hangar Customs: he used some section of an old 60s model and starting from that base he build all the shape around the Harley Davidson structure. It is so tight it embodies some bulges where the forks, the engine or other mechanical stuff.
Giorgio ha tirato fuori il massimo delle sue capacità di lavorazione dei metalli per costruire pezzi incredibili partendo da zero. Il serbatoio ha il doppio tappo e una forma chiaramente ispirata al mondo delle gare endurance. La coda è super slanciata e aderente per abbracciare la ruota posteriore.
Non c'è spazio extra, giusto il minimo indispensabile per consentire il movimento della sospensione.
La carena è un'opera d'arte di Mattia, meglio noto come Hangar Customs: partendo dalle sezioni di una vecchia carena da corsa anni 60 ha costruito un abito attillato che copia perfettamente la meccanica Harley. Essendo così aderente presenta rigonfiamenti e aperture in corrispondenza delle varie componenti di motore e telaio.
A couple of hand-made alluminim air intakes on the sides provide some fresh hair to the cilynders. Their design is a bit rough on purpose to enhance the racing soul of this project.
The owner wanted his bike to sit lower than the stock model so we have to move and rebuild the exhaust and the headers: they run high like in our "old" Sporty Drag and everything is hand-built from scratch and heat-wrapped.
Un paio di prese d'aria in alluminio "grezzo" ai lati procurano aria fresca ai cilindri. La loro finitura è studiata appositamente per enfatizzare l'anima corsaiola del progetto.
Il proprietario desiderava una moto più bassa così abbiamo dovuto spostare e ricostruire lo scarico e i collettori: ora questi ultimi passano in alto (come nella Sporty Drag) e tutto è costruito da zero e protetto da bende anti-calore.
The huge muffler is by far the most eye-grabbing feature in the whole bike and for sure the one that that triggers the strongest opinions. It's inspired by the old racing cars and motorbikes of the 30s and is covered in matt white heat-resistent paint. An alluminium plate protects the rider from the heat.
Giorgio built the silencer starting from steel plates and designed all the internal chamber to increase the performance of the engine and not to make it too loud. Now the bike roars with a deep growl.
Il gigantesco silenziatore è di sicuro la parte che più cattura la vista nell'intera moto e quella che divide maggiormente le opinioni. È ispirata alle vecchie auto da corsa e alle moto anni 30 ed è verniciata in bianco termo-resistente. Una piastra in alluminio – anch'essa fatta a mano – protegge ulteriormente il pilota dal calore.
Giorgio ha costruito la marmitta da zero e ha progettato le camere interne in modo da far sfogare al meglio il motore senza renderlo eccessivamente rumoroso. Ora quest'Harley ruggisce con un tono bello profondo. 
A chain drive conversion was almost mandatory to re-create a vintage racing look. I think it wouldn't look the same with the stock belt..
The backward-ed footrests needed a new gearbox linkage so we provided it and covered with matt black paint. The elctric system cover has been lightened with some holes.
Cristian made his usual irreproachable job on the saddle: even in the super tight space he managed to build a classy piece in black striped leather.
Una conversione a catena era praticamente obbligatoria per ricreare il look retro-corsaiolo. Credo non sarebbe stato lo stesso con una cinghia.
le pedane arretrare e rialzate avevano bisogno di un nuovo leveraggio che è stato realizzato a mano e verniciato in nero opaco. La cover del sistema elettrico è stata alleggerita mediante alcuni fori.
Cristian ha messo la sua solita professionalità nella produzione della sella: anche in questo spazio super compatto è riuscito a costruire un componente in pelle nera a strisce longitudinali davvero di classe.
This view let you see the nice Avon Speedmaster through the front fairing. The Akront spoke wheels are polished and look so bright!
The Monza old track surface is really the perfect match for our retro-racing inspired machine!
The only "modern" detail is the asymetrically mounted headlight which is round and equipped with leds. The fairing is so close to the handlebars that we need to create a smooth structure that protruded to embody the headlight.
Questa vista permette di vedere la Avon Speedmaster da 19 attraverso la carena. i cerchi Akront sono lucidati a specchio.
La superficie del vecchio tracciato ad alta velocità di Monza è il set perfetto per questo mezzo ispirato alle corse di un tempo!
L'unico dettaglio "moderno" è il faro tondo a led montato asimmetricamente. La carena è così vicina al manubrio da rendere necessaria la costruzione di una protuberanza per inglobare il faro.
Speaking of aftermarket parts we can include: the big single front Arlen Ness brake disc, the Roland Sands Design Air Filter and forks top, WP forks and suspensions and  the Avon Speedmaster 19″ tyre set.
Parlando di parti aftermarket possiamo annoverare: il grande disco maggiorato Arlen Ness all'avantreno, il filtro aria e la piastra superiore Roland Sands, forcelle e ammortizzatori WP, il treno gomme Avon Speedmaster da 19.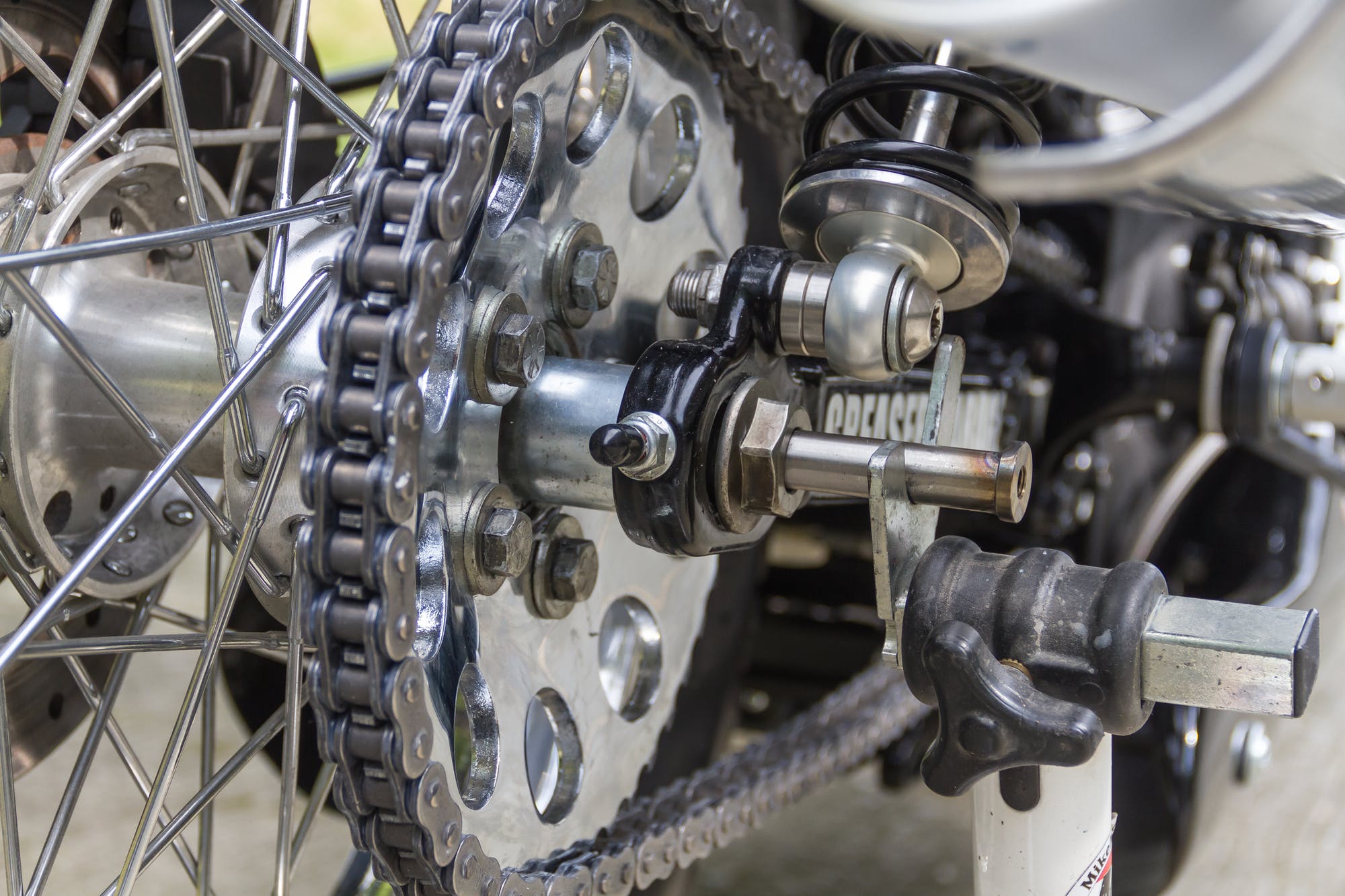 The name was one of the things that the owner invented by himself so we "only" had to find a way to add it on the bike: I thought about old HD logos and i decided to modify an old Aermacchi – Harley Davidson badge replacing the top script with the "Goddhammer" name. I think it really fits the new finishing.
Il nome è totalmente farina del sacco del proprietario così noi abbiamo "solamente" dovuto" trovare in modo per collocarlo sulla moto: ci siamo ispirati ai vecchi loghi HD e abbiamo deciso di modificare uno dei loghi del periodo Aermacchi – Harley-Davidson inserendo il nome nella parte superiore dello stemma. Credo che funzioni alla perfezione.
I think this project turned out pretty well. For sure we could reach an even better result with a few minor modifes but i think it looks great and that will be very cool once it hits the streets!
Credo che questo progetto si sia sviluppato in una maniera davvero convincente. Di sicuro con alcune altre piccole modifiche avrebbe potuto raggiungere l'eccellenza ma ritengo che già così la moto sia bellissima e lo sarà ancora di più una volta messa in strada!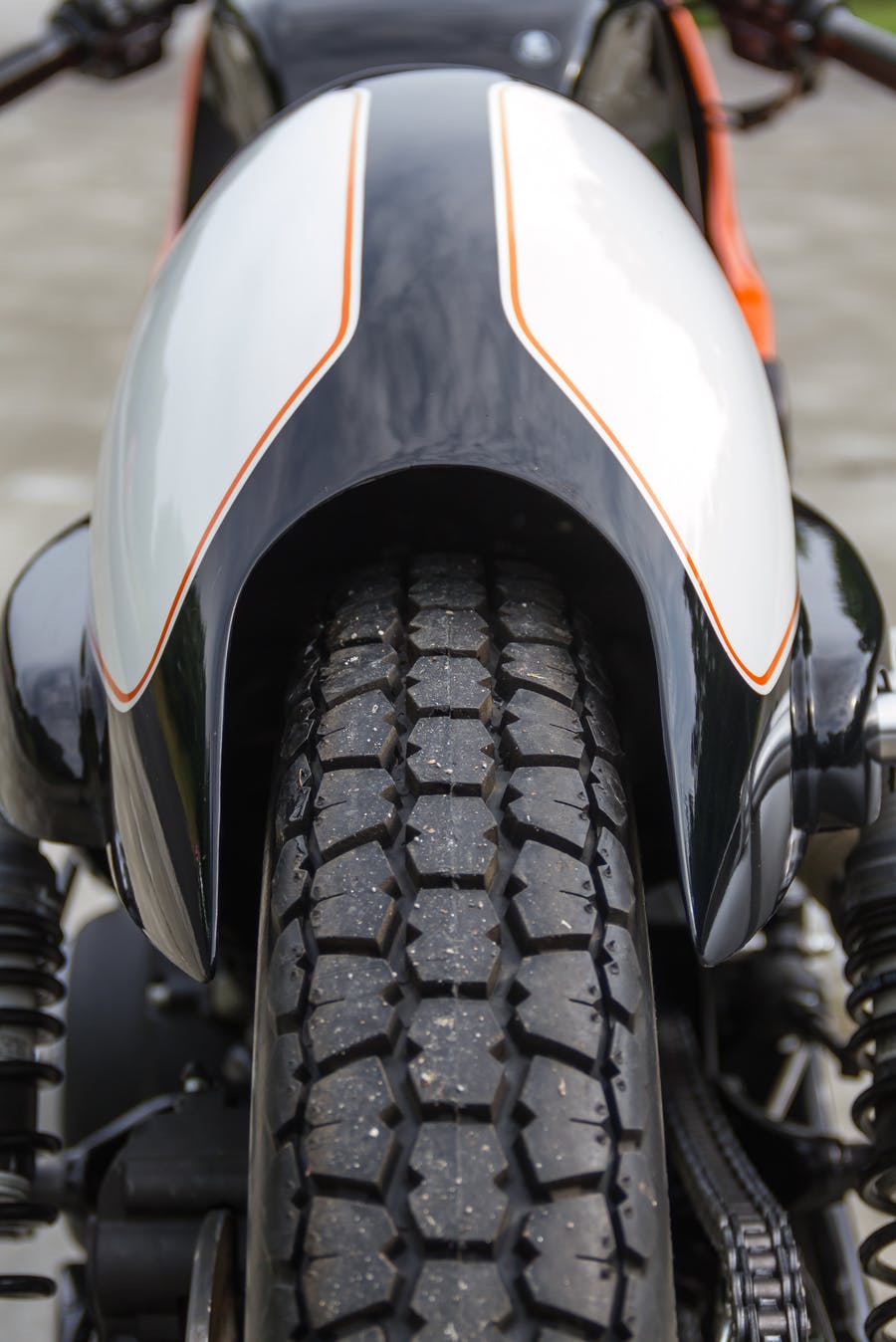 Ti piacciono le Harley Davidson? Scopri le nostre altre special su questa base!