At Greaser Garage we have been working on "modern" r-series for a couple of years now and we're still looking for the right shapes and right approach to their customization.
They share some iconographic features with the 70s / 80s models but they're considerably bigger and more complicated.
Al Greaser Garage lavoriamo sulle BMW serie R "moderne" da un paio d'anni ormai e siamo sempre alla ricerca delle forme corrette e dell'approccio più efficace per la loro customizzazione.
Esse condividono alcune caratteristiche  iconiche con i modelli degli anni 70/80 ma sono considerevolmente più grandi e complicate.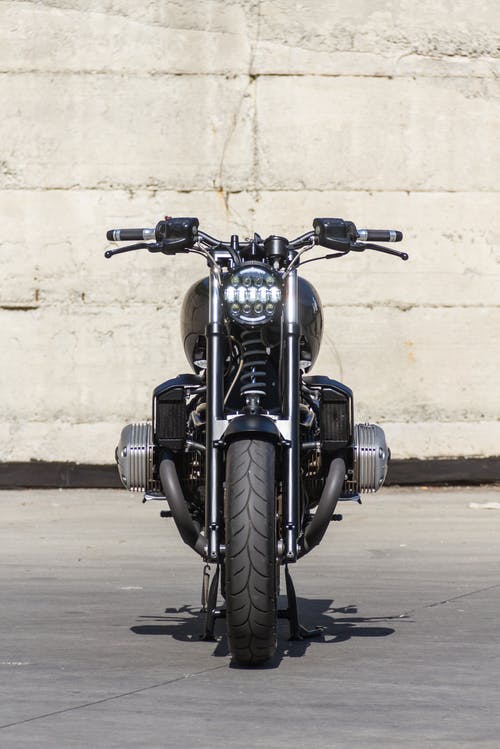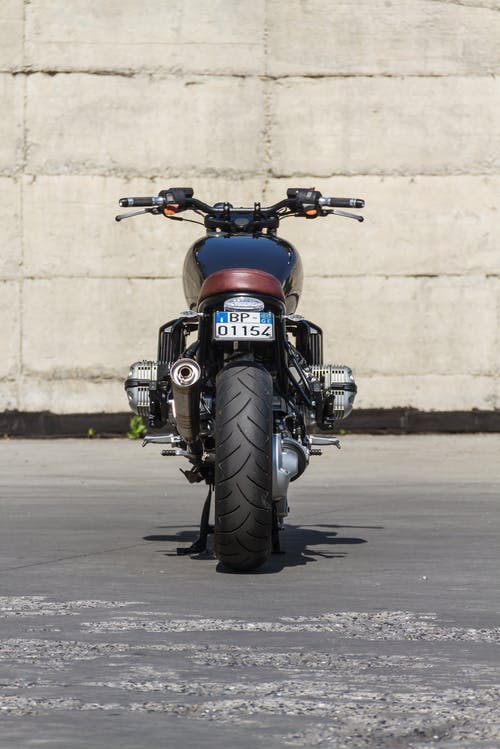 The front end has been re-worked removing the huge (and anti-aesthetic) mudgard and using a smaller one from a previous series. The old-model oil coolers sit lower, giving more air to the upper section of the bike.
A full-led headlight gives a more contemporary look to the front and is useful to reduce the frontal section.
Il frontale qui è stato completamente riconvertito rimuovendo il grande (e antiestetico) parafango e sostituendolo con uno più piccolo di una serie precedente. I radiatori dell'olio del vecchio modello sono posizionati più in basso , dando più snellezza alla parte superiore della moto.
Il nuovo fanale full led dona un look più contemporaneo all'anteriore ed è utile per alleggerire e ridurre la sezione frontale.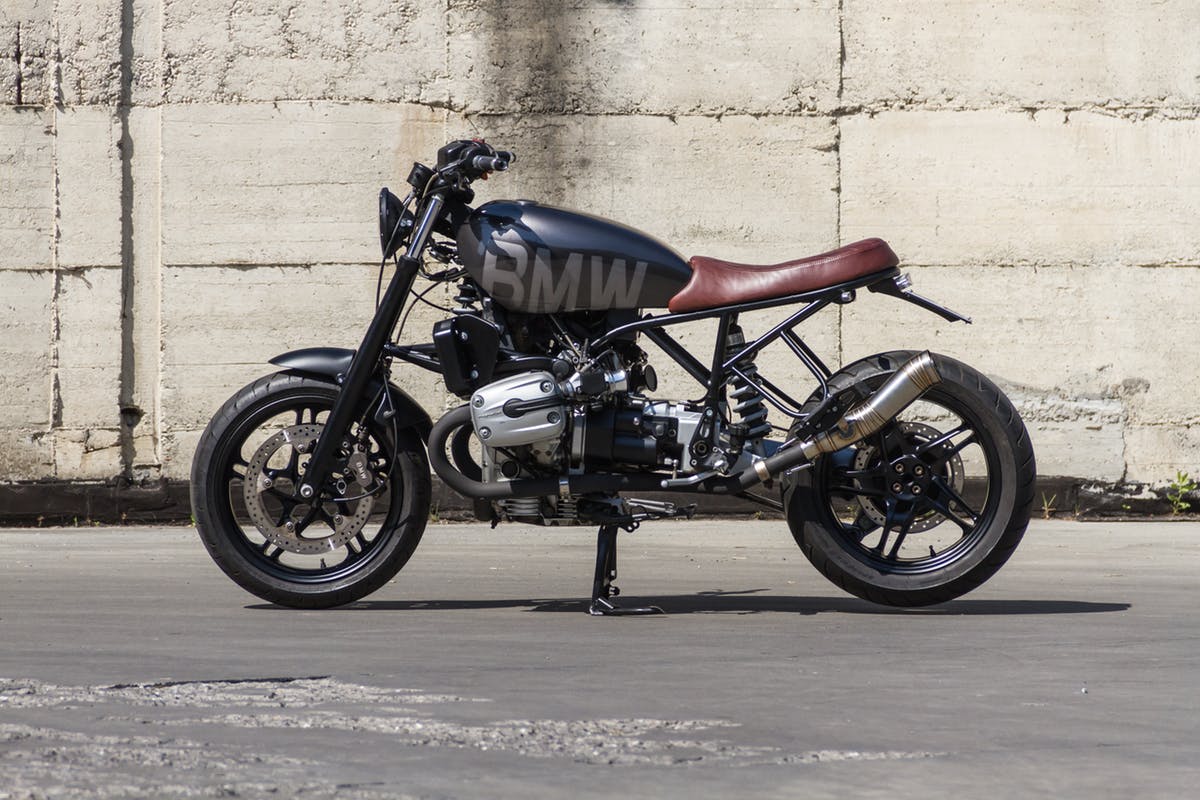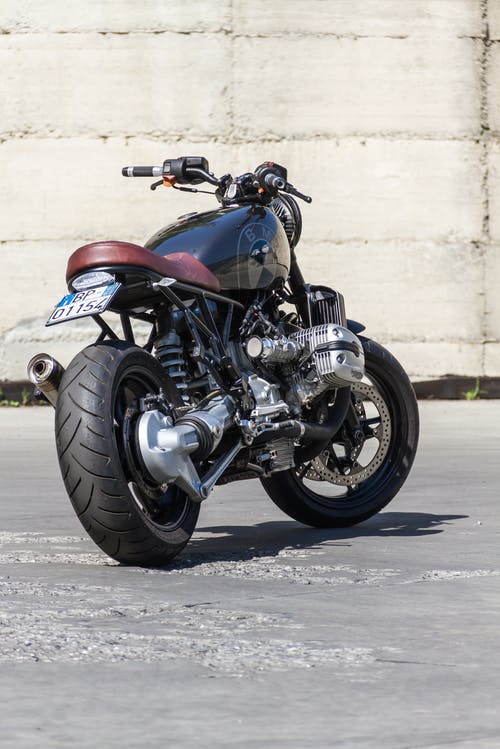 So you won't be able to take everything off + adding a brat saddle in order have a nice bike: there's a lot more to do!
The frame is far more complicated with the telelever structure on the front and all the subframe at the back: the engine now works together with the tube frames so there's no more opportunities to grab the basic and clean look of old Rs.
Non basta togliere tutto i superfluo e aggiungere una sella "brat style" per ottenere una moto più bella: ci vuole molto più lavoro!
Il telaio è di gran lunga più complesso con la struttura della sospensione anteriore telelever e l'intricato telaio reggisella al retrotreno: il motore ora lavora in sinergia con il telaio tubolare per cui non si può semplicemente attingere ai lavori compiuti sulle vecchie "R" per raggiungere un look filante.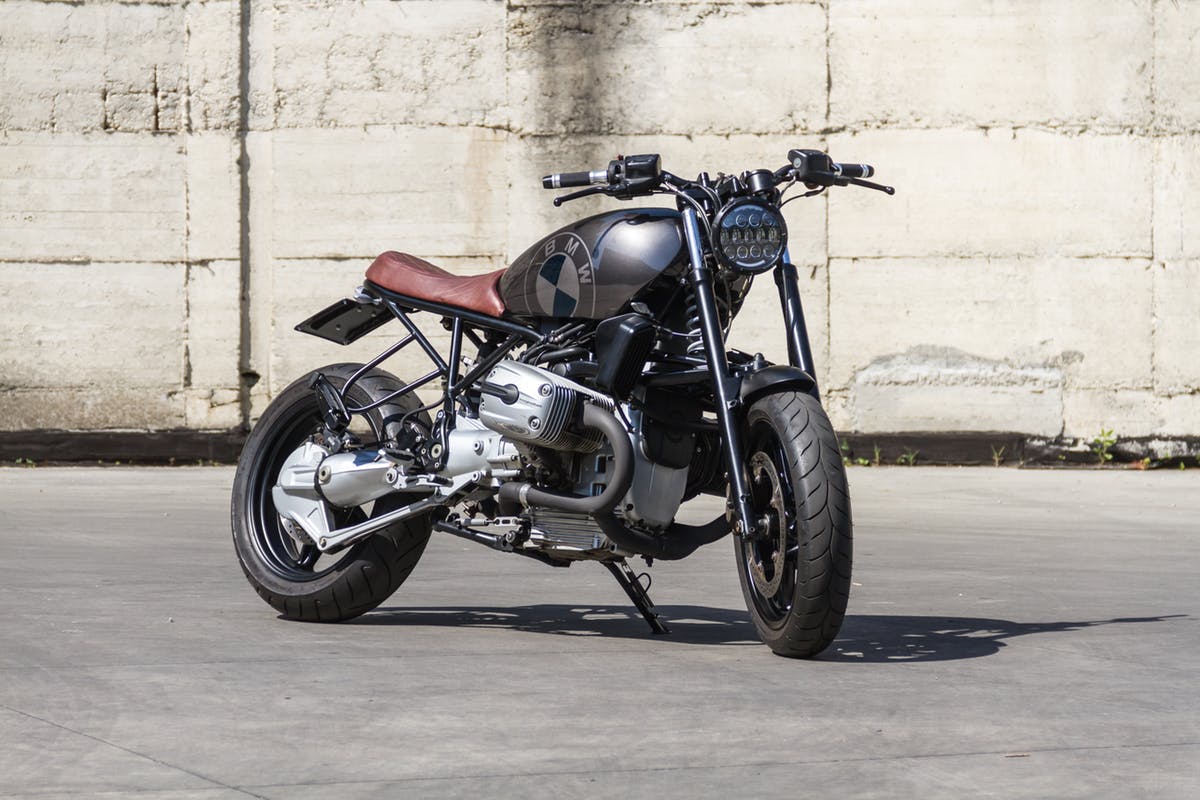 The bike are equipped with fuel injection, oil cooling, abs…all these devices need space, tubes, cables, control units to work properly and this makes things a little more complicated if the target is a more classic and sleek look.
We decided to re-design completely the overalls so we threw away the headlight, the tank, the rear subframe, the exhaust, the airbox, the cockpit and the mudguards. We needed the bike to be and look smaller and easier to drive.
The diamond pattern on the brown leather reminds of the luxurious imteriors of vintage cars.
Queste moto sono equipaggiate con iniezione elettronica, sistema di raffreddamento dell'olio, abs…tutti questi dispositivi hanno bisogno di spazio, tubi, cavi, unità di controllo per funzionare correttamente e tutto questo rende più complicato il raggiungere l'obiettivo di una linea più slanciata e classica.
Abbiamo deciso di riprogettare completamente le sovrastrutture così abbiamo tolto fanale anteriore, serbatoio, telaio posteriore, scarico, airbox, cruscotto e parafanghi. Avevamo bisogno che la moto fosse più compatta sia da vedere che da guidare.
La fantasia a rombi della sella ricorda le sellerie pregiate delle auto di lusso di una volta.
A different tank needed the oil coolers to be re-positioned lower, being the stock ones integrated in a unique structure: so we used two coolers form the previous model to be free to work on a one-off metal tank.
Un differente serbatoio ha richiesto il ri-posizionamento verso il basso dei 2 radiatori dell'olio, essendo gli originali integrati in un unica struttura proprio con il serbatoio: abbiamo così usato 2 radiatori provenienti da un modello precedente per essere più liberi di lavorare su un serbatoio dedicato.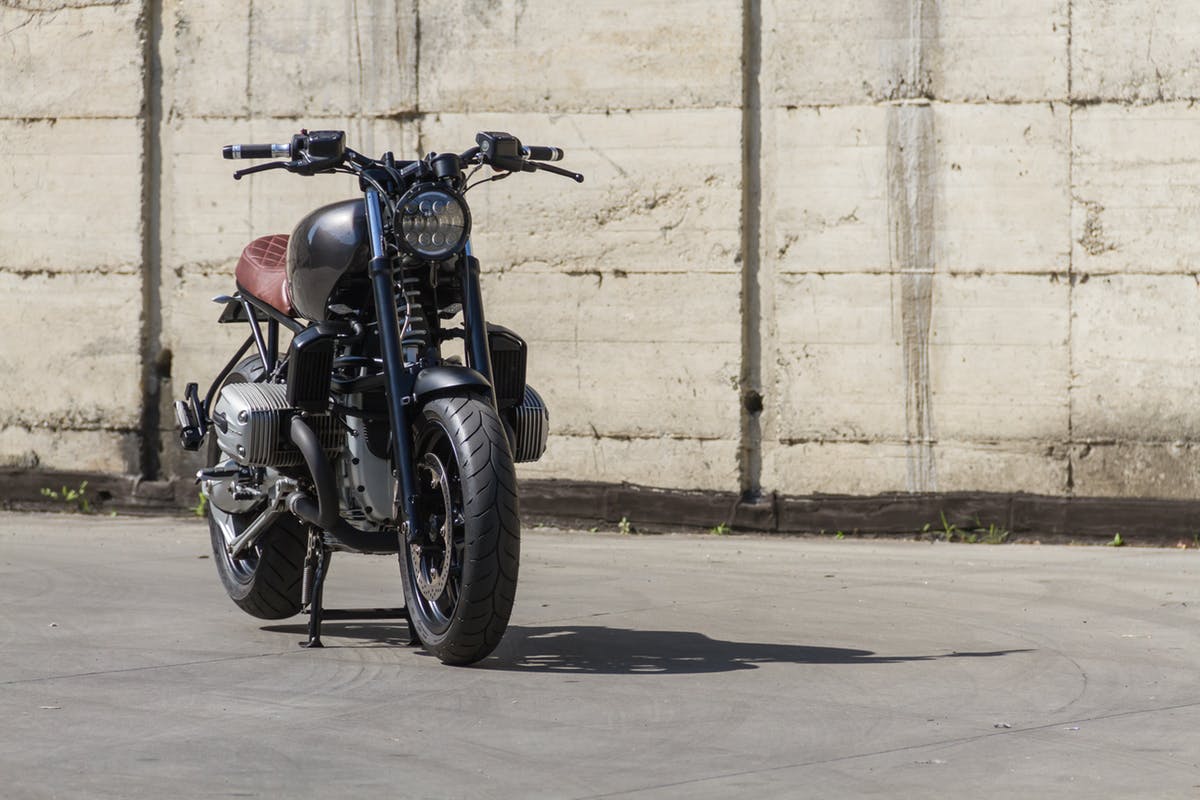 The base comes from a Kawasaki Z900 unit that needed to be totally modified to match the BMW frame. It was a huge work that both Giorgio and Mattia accomplished brilliantly.
The new silhoutte is way more clean and round than the stock model, giving it a more classic allure. The paintjob helps in enhancing it, thanks to the deep metallic grey.
A Motogp-style muffler has been adapted to the stock headers.
La base del nuovo serbatoio proviene da una Kawasaki Z900 che ha richiesto tantissime modifiche per adattarsi al telaio BMW. Si è trattato di un lungo lavoro portato avanti brillantemente da Giorgio e Mattia. 
La nuova linea risulta così molto più filante e sinuosa rispetto al modello di serie, conferendo al progetot un fascino più classico. La verniciatura aiuta ad enfatizzare ulteriormente questa percezione grazie al grigio metallizzato molto profondo.
Uno scarico corto in stile MotoGp è stato adattato ai collettori di serie.
A giant Bayerische Motoren Werke logo finds its place on the right side while a simple bmw lettering occupies the other one. They're realized with semi-transparent tones covered in a glossy finish to give this part an elegant and refined look.
The entire center and rear end of the bike had to be re-imagined so we started replacing the bulky plastic airbox with two short polished trumpets protected by a metallic mesh.
Un grande logo Bayerische Motoren Werke trova posto sul lato destro mentre 3 semplici lettere BMW occupano la parte sinistra. Il tutto è realizzato in toni semi-trasparenti e coperti con vernice super lucida per dare all'insieme una finitura di classe.
L'intera parte centrale e posteriore doveva essere ri-concepita per cui siamo partiti dalla rimozione dell'airbox, sostituito con 2 corti tromboncini protetti da una rete metallica.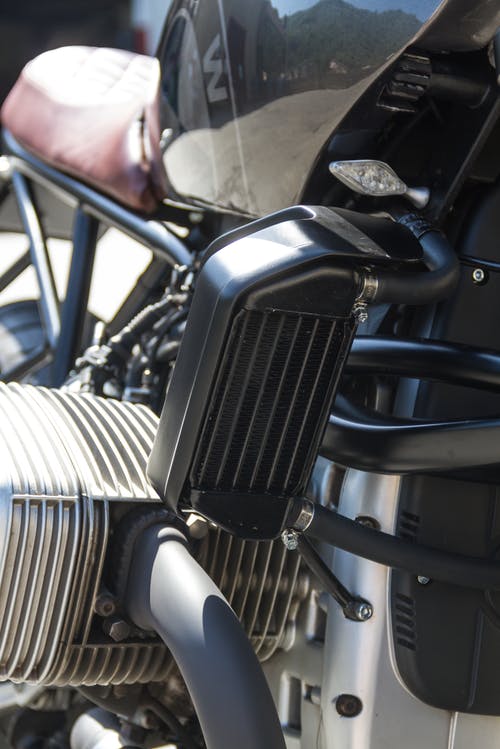 The new subframe we designed and built works together with the custom made saddle built by Cristian and uses the same attatchment points of the stock model so the bike can easily return to the original setup.
Black on black is always a good choice in order to give a vehicle some freshness.
Il nuovo telaio posteriore che abbiamo progettato e costruito funziona benissimo accoppiato alla nuova sella costruita da Cristian e utilizza gli stessi punti di attacco dell'elemento originale cosicchè la moto possa essere riportata facilmente alle sue caratteristiche originarie.
Nero su nero è sembra una buona scelta quando si vuole rinfrescare un po' il look di una moto.
A little gauge on the left embodies all the informations and control lights inside a minimal element. The view form the riding position is now completely clear and reminds of some smaller and older bikes.
Un piccolo indicatore collocato nella parte sinistra del ponte di comando fornisce tutte le informazioni necessarie e incorpora tutte le spie. La vista una volta in sella è ora totalmente pulita e ricorda quella di alcune moto più piccole e datate.
This project has been developed a few weeks after the other R1150 you can see in this site: you can try to spot all the differences and all the work we put on them to please our customers' desires.
Being based on the r version of the 1150 this very bike is somehow more aggressive thanks to the larger tyre section and the beautiful black rims.
Questo progetto è stato sviluppato poche settimane dopo l'ultimazione di un'altra R1150 che potete trovare sul nostro sito: potete provare a notare tutte le differenze che vi sono tra esse in base ai differenti desideri dei due proprietari.
Essendo basata sulla versione R della 1150 questa moto è in qualche modo più aggressiva grazie alla maggiore sezione della gomma posteriore e ai bellissimi cerchi neri.
We really are convinced that this type of motorbykes hides a great potential that has yet to be fully exploited: so we'll keep on working on new projects putting all efforts in going further. Stay tuned!
Siamo pienamente convinti che questo genere di mezzi abbia un grande potenziale che deve essere ancora sfruttato a pieno: per questo continueremo a lavorare su questi progetti dando il massimo per tirare fuori tutto quello che possiamo!