The SR400 You wouldn't expect
Yamaha has recently put on the market in Europe a version of the classic Sr400 that has been sold in Japan since 1978. It's a super-easy vehicle with a single air-cooled cilynder and kick start.
La SR400 che non ti aspetti
Yamaha ha recentemente messo sul mercato europeo una versione della classica Sr400 che viene venduta in Giappone sin dal 1978. Si tratta di una moto molto semplice con un motore monocilindrico raffreddato ad aria e avviamento a pedivella.
It is thought to be a simple 2-people commuter with low maintenance cost and basic performance.
It looks subtle and a little "poor" in its stock trim so the owner decided it needed a boost in order to get a bit more satisfaction in owning it.
Venne concepita come un semplice veicolo con prestazioni sufficienti per portare 2 passeggeri e bassi costi di manutenzione.
Passa senza dubbio abbastanza inosservata e risulta un po' "povera" nella sua versione stock così il proprietario ha deciso di darle un po' più di spirito in più per rendere più soddisfacente la vita con essa.
We decided we need to follow the k.i.s.s. approach and exploit its old design enhancing some of its carateristics. Being an aircooled mono the inspiration came straight form the british motorsport heritage.
Abbiamo deciso di seguire l'approccio "k.i.s.s." – ovvero mantenere le cose più semplici possibili – e sfruttare la sua classicità progettuale enfatizzandone alcune caratteristiche. Trattandosi di un monocilindrico ad aria l'ispirazione viene direttamente dalla storia motoristica inglese.
On the front we find a big single round headlight in a black housing where we open a couple of holes for control lights.
A new chromed condor handlebar replaces the stock taller one and gives the bike the idea of a racing pedigree but keeping more comfort if compared to handlebar halves. New custom small gauges are used for revcounter and speedometer.
The frame has been kept almost stock, only cut and modified in the rear to house a new single seater vintage-racing style tail. A dedicated leather striped saddle has been built to match the new line.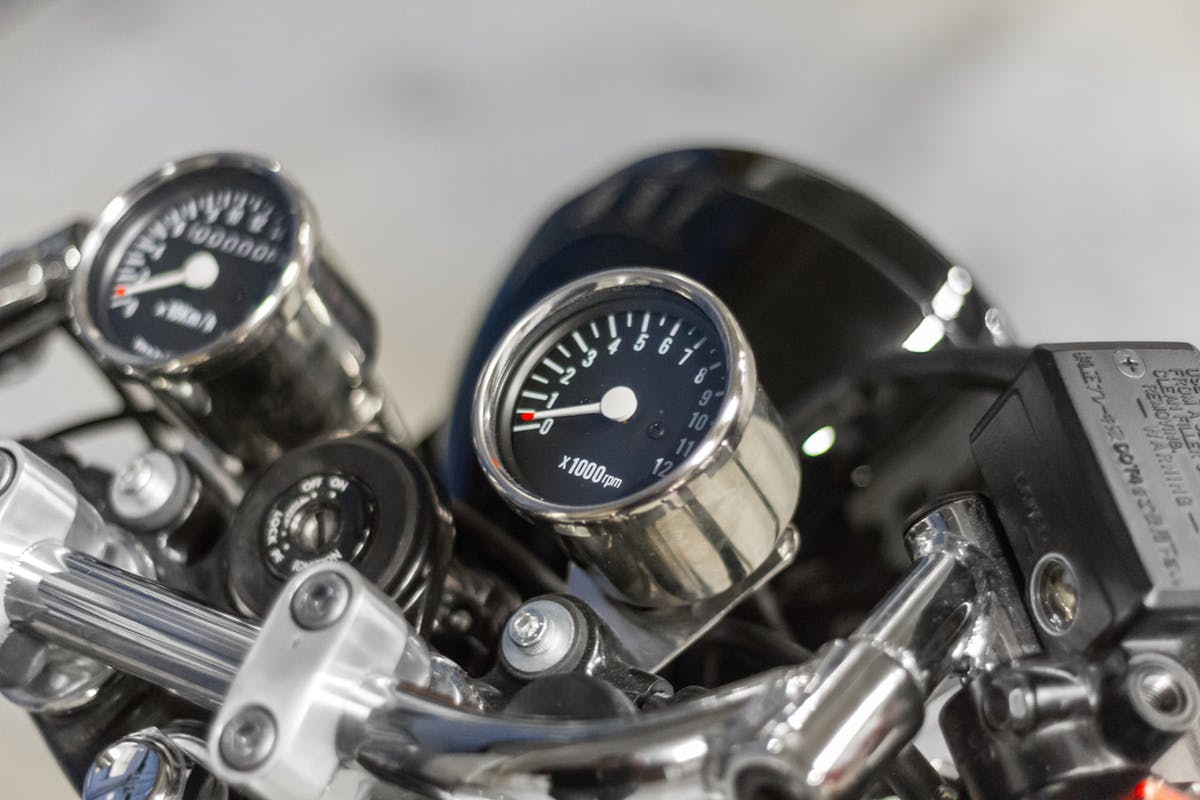 Il telaio è rimasto praticamente originale, solamente tagliato e modificato nella parte posteriore per accogliere una nuova coda monoposto in stile corsa vintage. Una sella su misura in pelle striata è stata costruita da Cristian per poggiare perfettamente sul nuovo codino.
All'avantreno troviamo una singola luce tona di generose dimensioni in un alloggiamento nero su cui sono riportate alcune spie.
Il nuovo manubrio cromato stile condor rimpiazza quello originale e rende la posizione di guida più bassa e più in linea con l'accezione corsaiola del progetto pur non costringendo alla scomodità dei semimanubri. Nuovi elementi più piccoli sono usati per contagiri e tachimetro.
The fuel tank is made by aluminium and is based on the shape of 60s/70s sports bikes, with bulks and recesses in the pursuit of some ergonomics.
Black and silver is the theme of all the project and almost nothing is left out of it.
Il serbatoio è stato costruito a mano ed è bastao sulle classiche linee delle moto sportive degli anni 69/70 con rigonfiamenti e incavi vari alla ricerca dell'ergonomia assoluta.
Il nero e l'argento sono il filo conduttore di tutto il progetto e quasi nulla si sottrae a questo schema.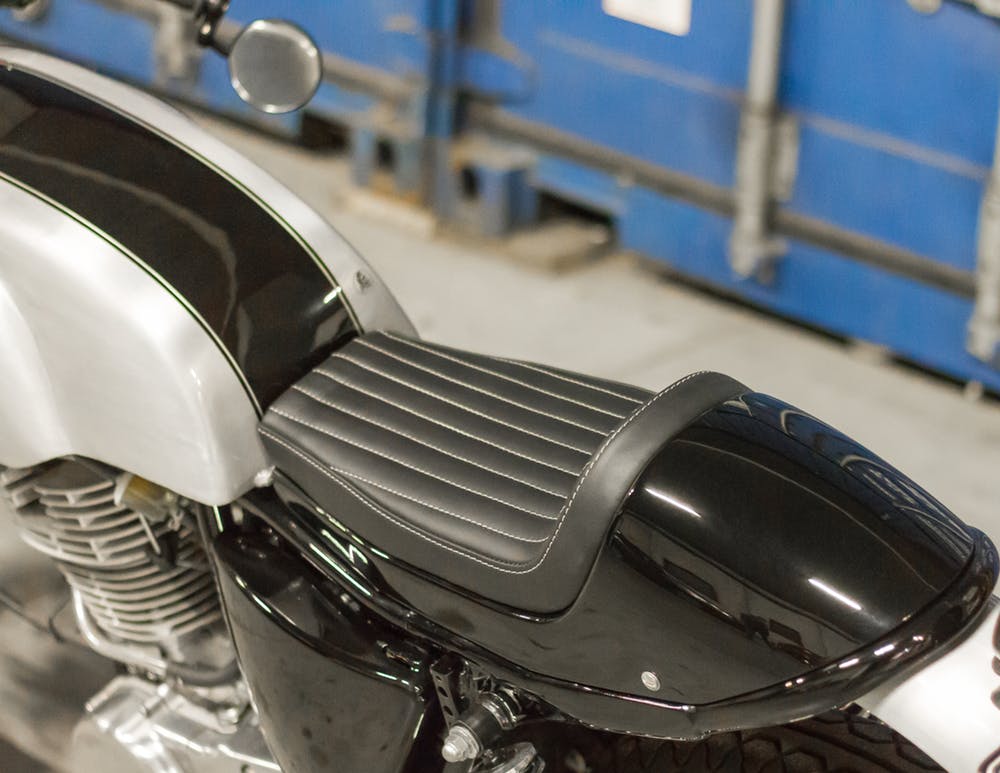 A new bottle-shaped muffler gived more carachter to the rear end. It really works well with the rear drum brake and the new rear dampers.
Il nuovo silenziatore dalla linea "a bottiglia" garantisce un po' più di carattere al retrotreno. Si relaziona alla grande con il freno a tamburo posteriore e con i nuovi ammortizzatori.
Custom made footrest have been designed and built to accomodate a sportier riding position.
In the end this little and cute Yamaha is the living proof that you don't need to afford a 4 zeros investment to make a nice -looking bike.
Le nuove pedane sono state costruite su misura per garantire una posizione di guida più raccolta e sportiva.
Tutto sommato questa piccola e graziosa Yamaha è la prova tangibile che non serve affrontare investimenti a 4 zeri per creare una moto in grado di catturare l'attenzione.