Moto Guzzi V11 Cafe racer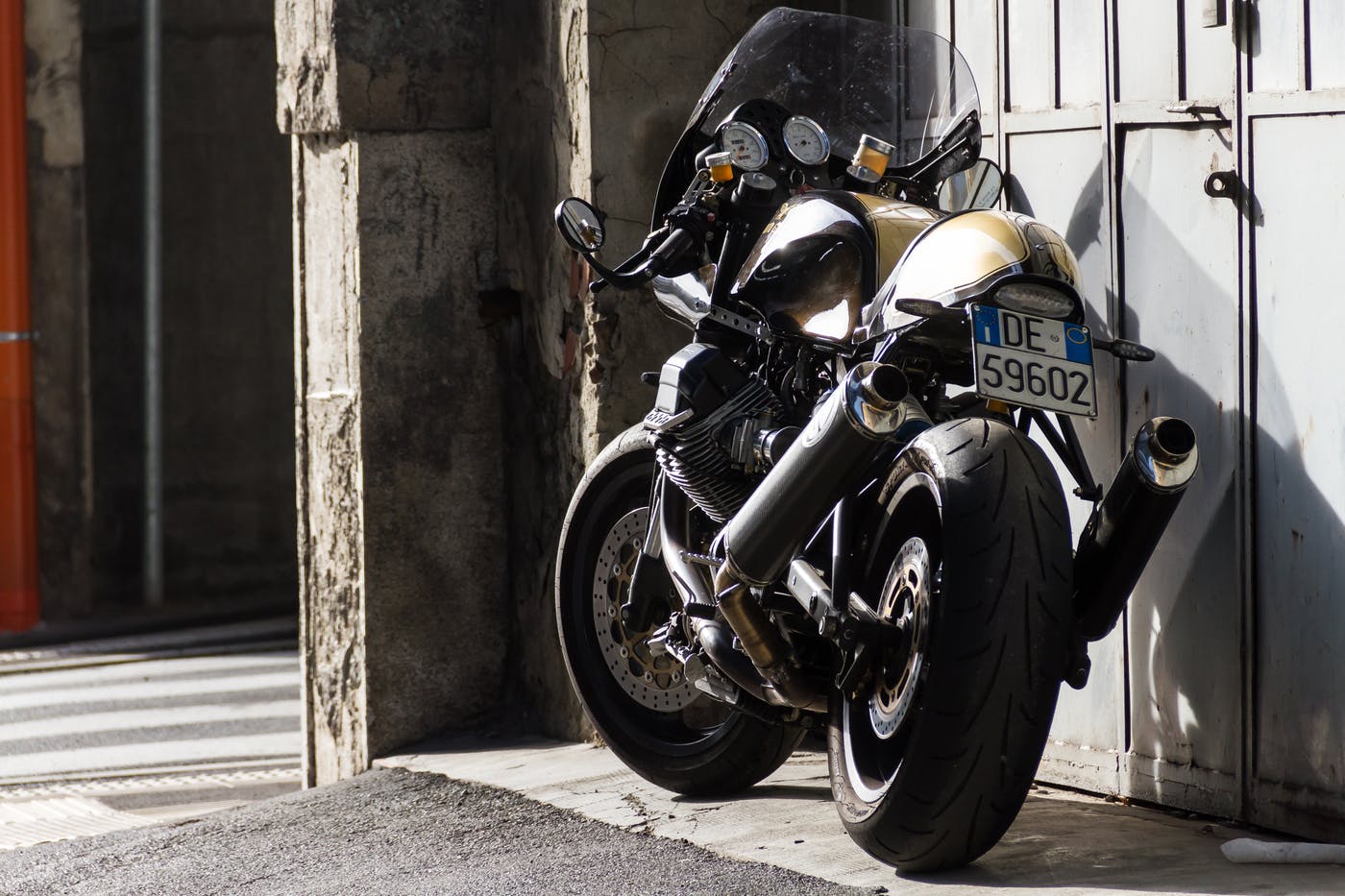 Paolo is a real Guzzi fanatic since he owns 3 models from this glorious italian brand. Luckily he chosed Greaser Garage to have one of them modified.
Paolo è un vero fanatico di Guzzi, essendo proprietario di ben 3 esemplari di questo glorioso marchio italiano. Fortunatamente ha scelto il Greaser Garage per farsene modificare una.
The base for this project is a V11, a heavyweight fighter if we should describe it in antropomorphic guise.
It is equipped with the iconic 90° transversely mounted V2 engine with a 1064cc displacement and 91 hp.
It has been re-worked with some upgraded parts inside. In the "visible" area we added a couple of nice short polished trumpets for the intake and two oval HPE carbon silncers.
Paolo wanted to go for a vintage sport look so we looked for something that could remind the 60s/70s. For the tank we remained into the Guzzi area with a Daytona 1000 tank.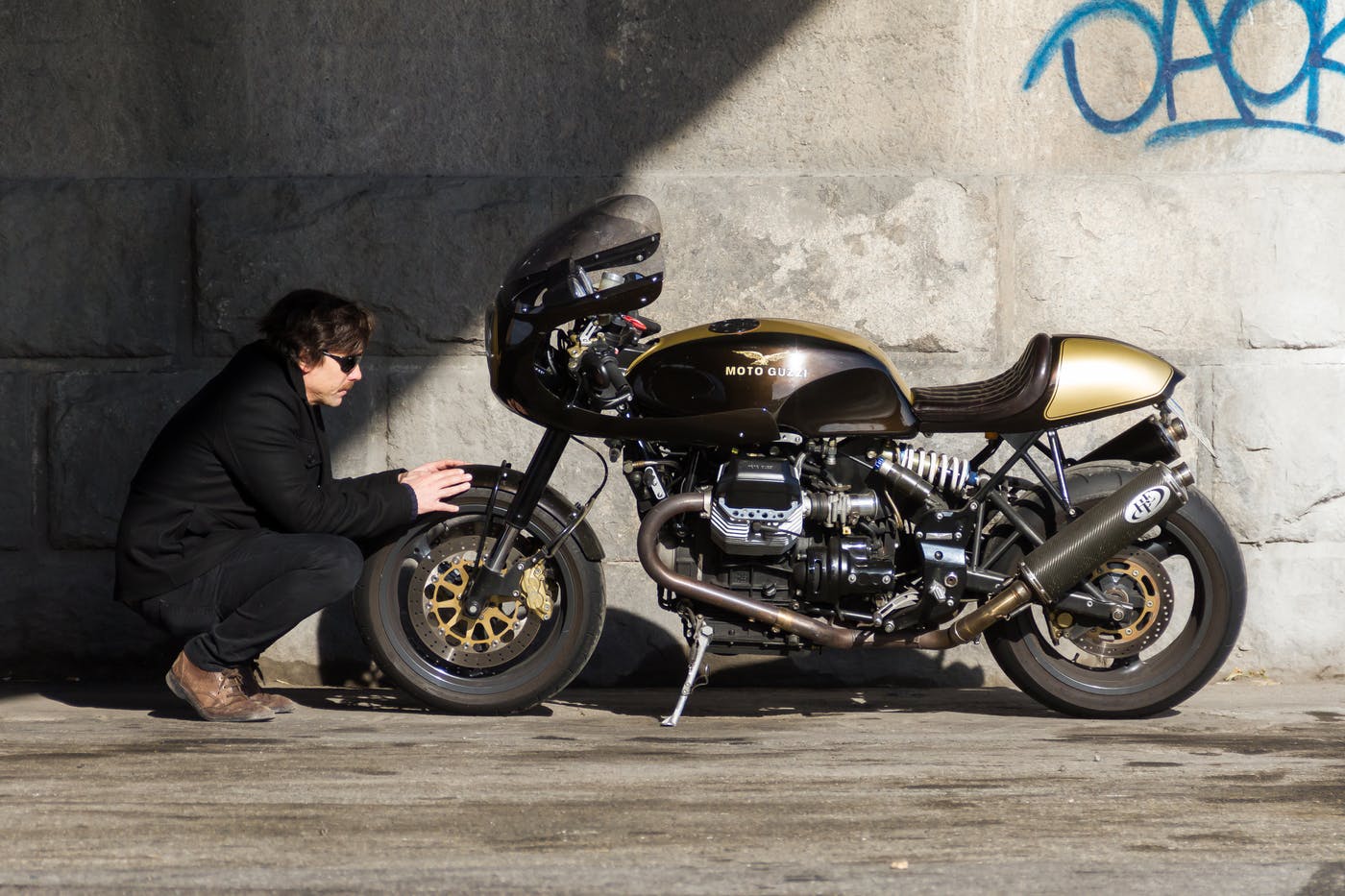 La base per questo progetto è una Guzzi V11, un bel lottatore da pesi massimi se dovessimo interpretarla in modo antropomorfico.
È equipaggiata con l'iconico motore trasversale a v di 90°, in questa specifica con una cilindrata di 1064cc e 91 cavalli di potenza.
È stato elaborato al suo interno con alcune lavorazioni "poco visibili" mentre nella parte visibile troviamo un paio di tromboncini corti lucidati e muniti di retina protettiva oltre a due silenziatori HPE in carbonio.
Paolo desiderava un look sportivo vintage così ci siamo subito messi alla ricerca di qualcosa che potesse ricordare a prima vista gli anni 60 e 70. Per il serbatoio non siamo dovuti andare troppo distanti visto che abbiamo optato per un elemento sempre Guzzi ma proveniente da una Daytona 1000.
Front and fairing are plastic parts modified to match the V11 shape and frame.
The body is now rounder and way more aggressive. New front and rear frames have been built from scratch to support the new panels and they look light and clean in their black finish.
 For the livery Giorgio went for a classic flavour buthe obtained it with a unique match: ametallic super-deep brown with a gold stripe and gold numberplates.
La nuova semicarena e il codino sono elementi plastici modificati per adattarsi alle nuove linee della V11 e al suo telaio.
La carrozzeria è ora più tondeggiante e aggressiva. Un nuovo telaio anteriore e uno posteriore sono stati costruiti da zero per supportare i nuovi pannelli e si mostrano leggeri e puliti nella loro finitura finale nera.
Per la livrea Giorgio ha optato per un sapore classico ma ottenuto mediante una combo unica: un marrone scuro metallizzato molto profondo con una striscia centrale dorata e tabelle porta numero dorate.
Cristian as usual did a great job with a striped, dark leather one-seat saddle.
The little brass badge tells number of the project and year of production.
The V11 Lemans instruments look fabolous so the remained untouched.
With the big round headlight, the classic color scheme and the retro-shaped fairing this V11 really looks like a vintage race-replica Guzzi.
The modern tyres, brakes and suspension really don't affect the overall allure.
Cristian ha fatto come sempre un gran lavoro con la sella in pelle nera a strisce longitudinali.
La piccola targa in ottone sul telaio indica il numero e l'anno della realizzazione del progetto.
La strumentazione originale della V11 risulta bellissima già all'uscita dalla fabbrica ed è quindi rimasta immacolata.
Con la grande luce frontale tonda, lo schema cromatico classico e le carene ispirate al passato questa V11 sembra davvero la replica di una vecchia Guzzi da corsa. Gomme, freni e sospensioni moderne non "disturbano" affatto la percezione generale.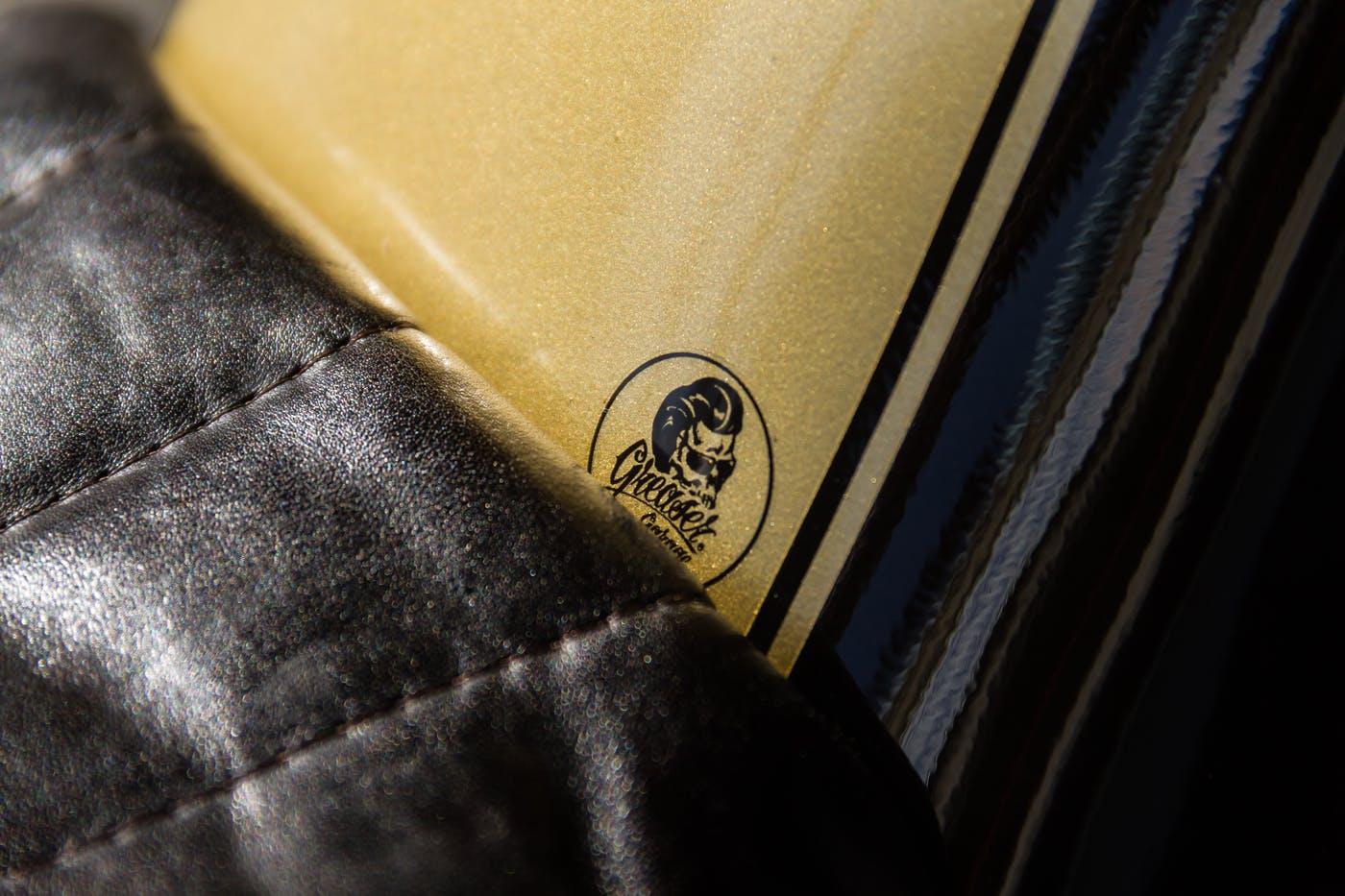 Even the front mudguard has been replaced by a vintage-inspired unit built on purpose.
 Low, aggressive, dark, noisy, one-seater, tuned up: this V11 really embodies all the caratheristics of the perfect cafe racer.
Anche il parafango anteriore è stato rimpiazzato con un unità dallo stile retrò appositamente costruita.
Baase, aggressiva, scura, rumorisa, monoposto, elaborata: questa V11 davvero incarna tutte le peculiarità della perfetta cafe racer!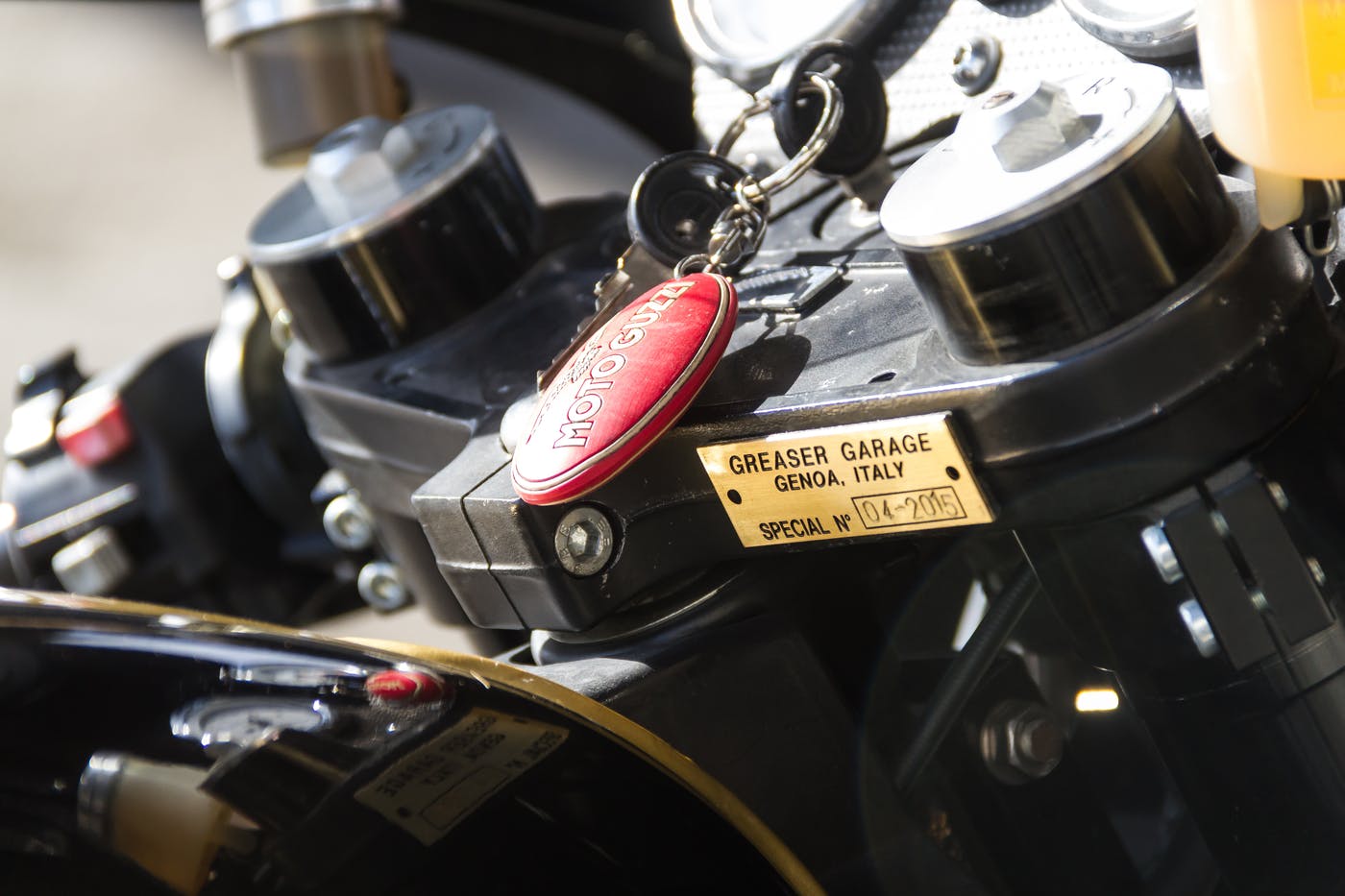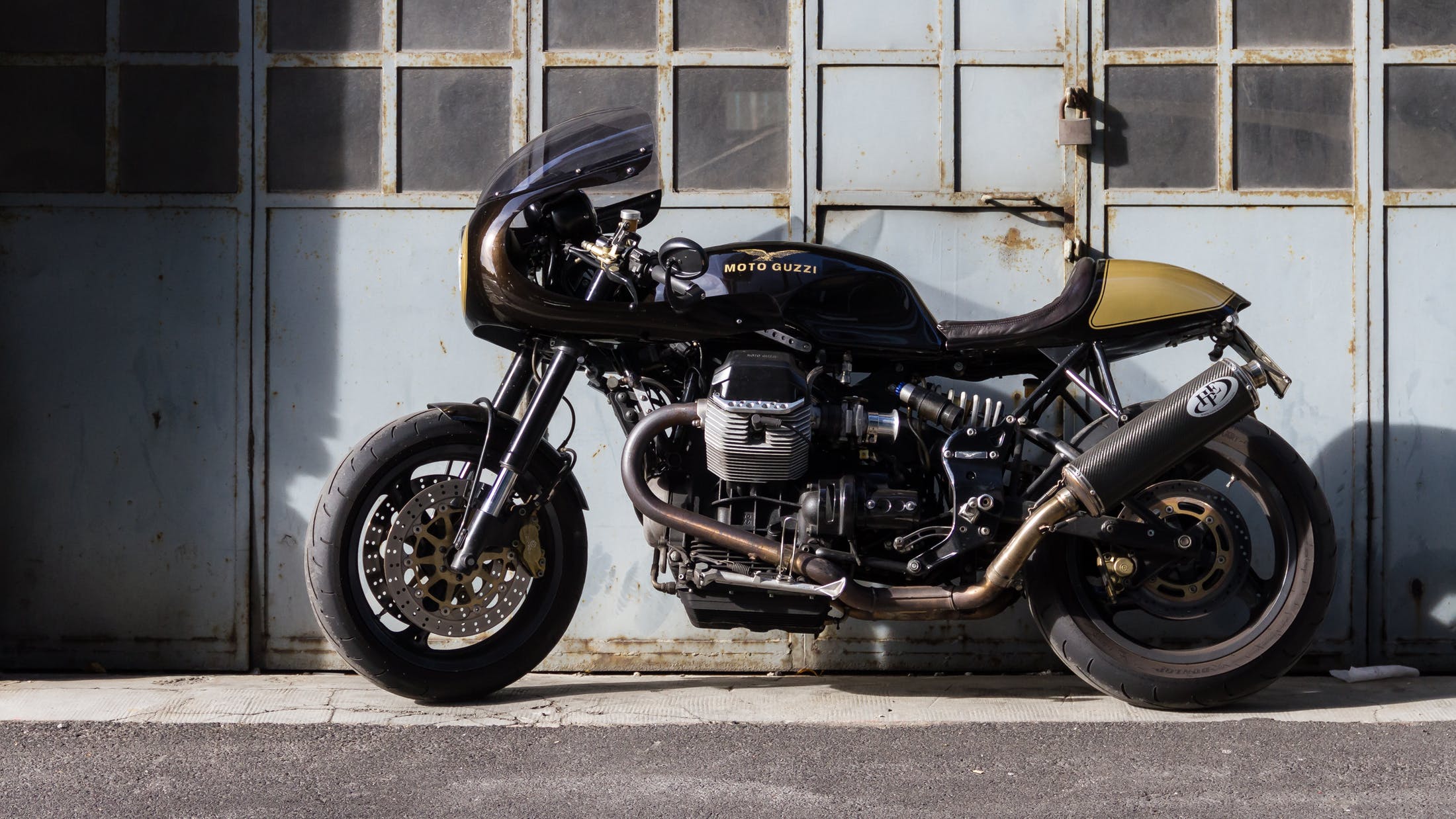 Who thought one has to come to Genova to find some old UK motorcycle heritage?
Chi l'avrebbe mai detto che si dovesse venire fino a Genova per trovare l'eredità del vecchio stile inglese?